Through the help of our fellow screen-free parents, we are aiming to provide a list of 1 million simple things to do with kids instead of turning to media, a tablet, or a tv. Here are this week's easy screen-free activities for you to enjoy with your young kids. These are simple things we recently did with our kids and we share them with you to keep you thinking. Do these five or use them as a jumping-off point for screen-free fun. All activities are born out of our S.P.O.I.L. System which is our psychologically-based system for prioritizing child's play.
To view the original 1 Million Screen-Free Activities post click here.
To view last week's activities click here.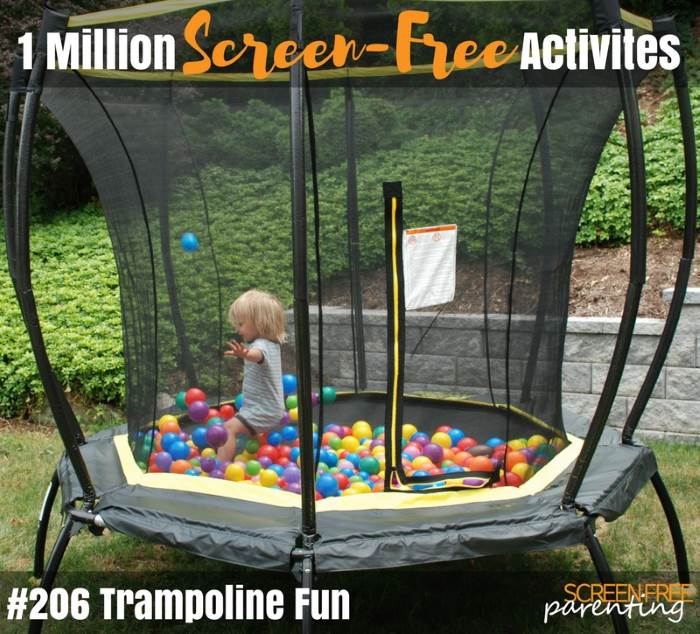 #206 Trampoline Fun
Our kids jump on everything from beds to furniture and they love the free-range jumping they can do on their trampoline. Check out the unique things we have done with our Skybound Atmos in 9 Unique Ways to Have Fun in a Trampoline This Summer. We like this tramp because it is a good size for young kids. The lower height means they can climb in and out without assistance, yet it is still large enough for mom and dad to enjoy after the kids go to bed.
#207 Basketball
Our son is obsessed with basketball and he keeps about 10 different random balls in a laundry basket next to his junior basketball hoop in the basement.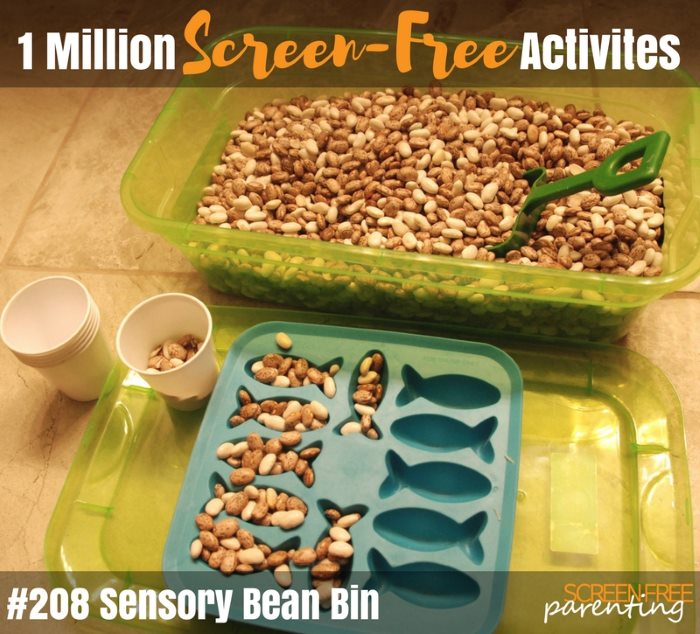 #208 Sensory Bean Bin
Dried beans are great for indoor sensory bins. Although they are not super-messy they do require some lessons in cleaning up. We bought a couple bags of pinto beans and added a few fun ice cube trays to a 6 qt size plastic bin under our bathroom sink to keep our 2-year-old entertained when we need to shower.  See what else we keep under our bathroom vanity in our How to take a shower with small children article here.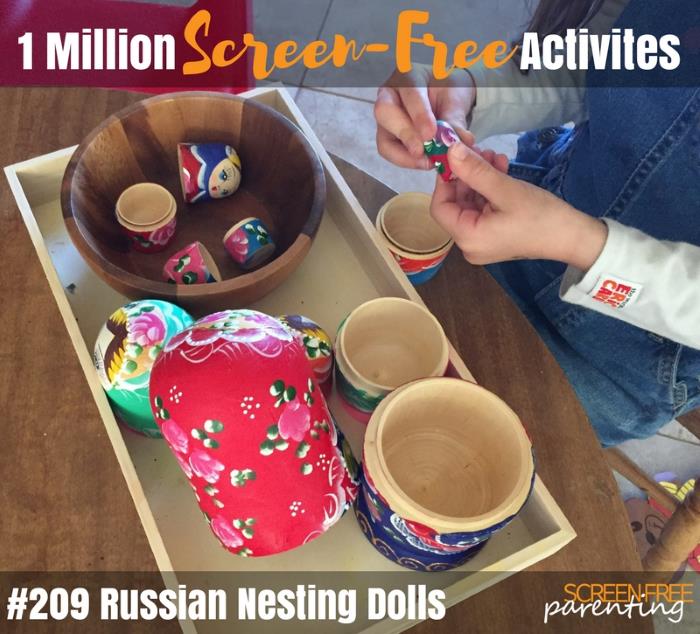 #209 Russian Nesting Dolls
My kids recently got a 7 piece Russian nesting doll set from their grandparents, and we have added it to the job rotation in our kitchen Montessori shelf.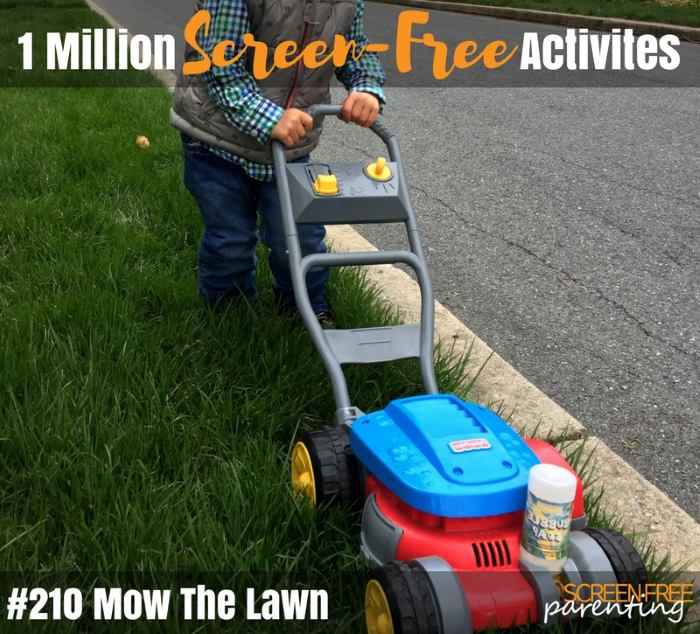 #210 Mow the Lawn
If you have teenagers, mowing the lawn is a great way for them to contribute to the household chores.  If you have young kids then a fake mower that blows bubbles out of its exhaust pipe should do the trick.  Our son loves walking the block with his mower.
That's it for this week.  Be sure to sign up for our email list to get our weekly email including 5 screen-free activities and great tech-wise parenting articles. If you want to see more right now start at our first 1 Million Screen-Free Activities post.

Join The Revolution
Sign up to have great articles like this one sent right to you in our Screen-Free Parenting weekly recap email.
*This post contains Amazon Affiliate links for your convenience. If you choose to make a purchase, Amazon pays Screen-Free Parenting a small referral fee at no additional charge to you