We are on a mission to provide a list of 1 million simple things to do with kids instead of turning to media, a tablet, or a tv. Here are this week's easy screen-free activities for you to enjoy with your young kids. These are simple things we recently did with our kids and we share them with you to keep you thinking. Do these five or use them as a jumping-off point for screen-free fun. All activities are born out of our S.P.O.I.L. System which is our psychologically-based system for prioritizing child's play.
To view the original 1 Million Screen-Free Activities post click here.
To view last week's activities click here.
Get 5 Activities in your inbox weekly!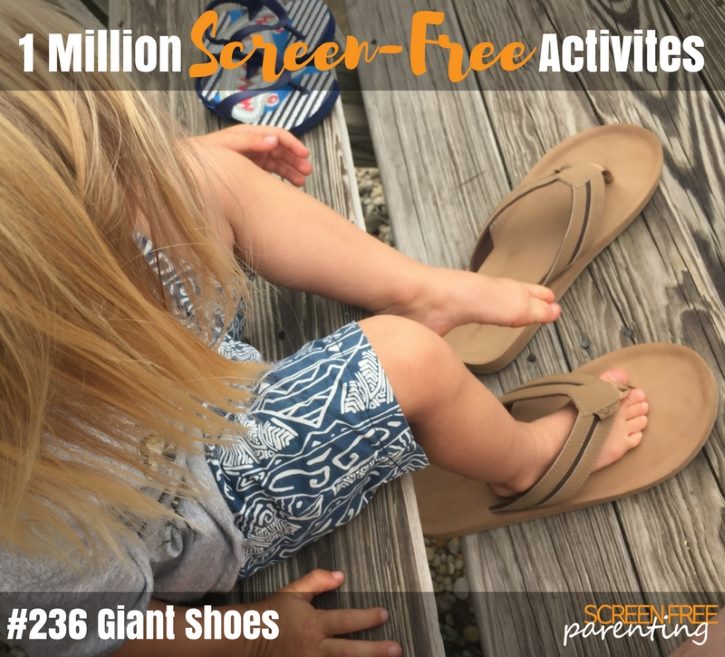 #236 Giant Shoes
Kids love trying on mom and dad's shoes, so if they are bored offer to test them to see how far they can walk in your shoes.  It is also fun if you ask them to do their best impersonation of mom or dad.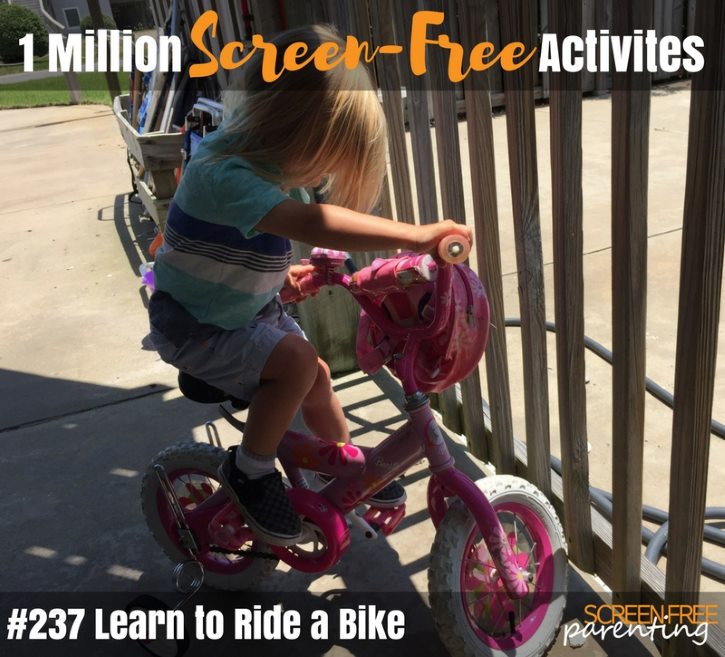 #237 Learn to Ride a Bike
Ahh, the skill that never goes away. Little junky heavy bikes like this one can be had for a few dollars at your local community yard sale, but the skill will remain with them forever. (Note: This photo is not representative of how we teach our kids to ride. Always wear a helmet. Our little guy just climbed on his sister's bike and made motorcycle noises which captured my attention.)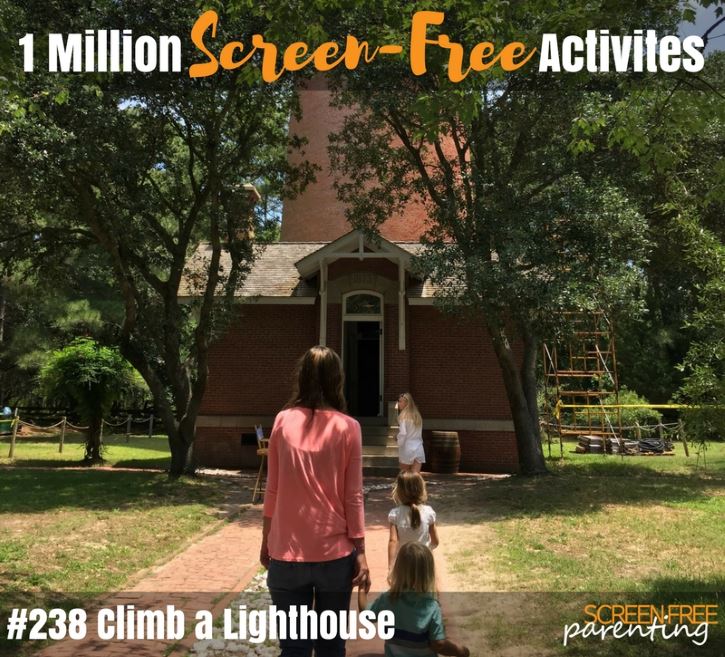 #238 Climb a Lighthouse
Obviously, this one is pretty location specific, but if there is no lighthouse nearby, maybe it's time for a trip to the shore! If that is out of the question visit some other historic park or local landmark and teach the kids about how things were done before cell phones and GPS.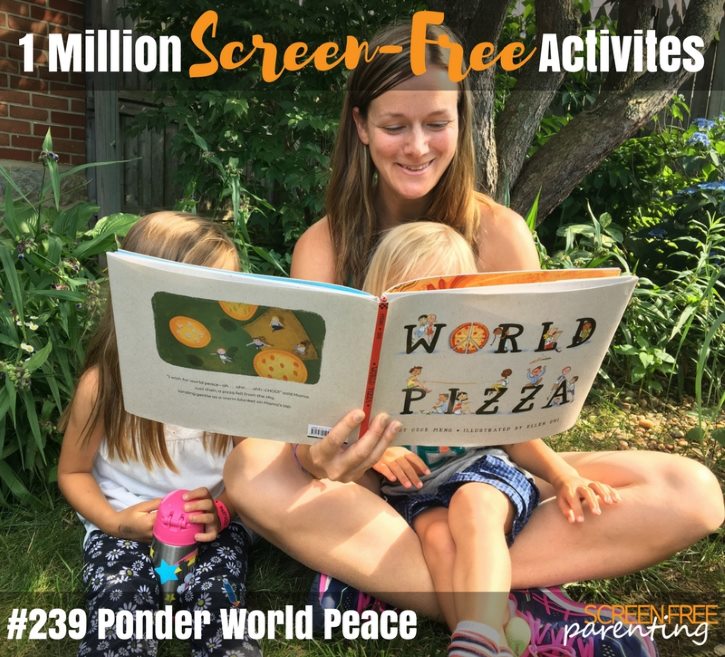 Ponder World Peace
Open the door to discussing world peace with your children via their hungry bellies and children's universal love for Pizza. The new children's book,
World Pizza
, does an excellent job of bringing the wish for world peace to light in a humorous fashion. It captured both of my children's attention and I appreciated how diversity was represented in the illustrations. Like and share this article's original post on
Facebook
 by Friday, July 7, 2017, for an opportunity to win your own copy of
World Pizza
courtesy of the publisher. Limited to residents living within the continental US and Canada.**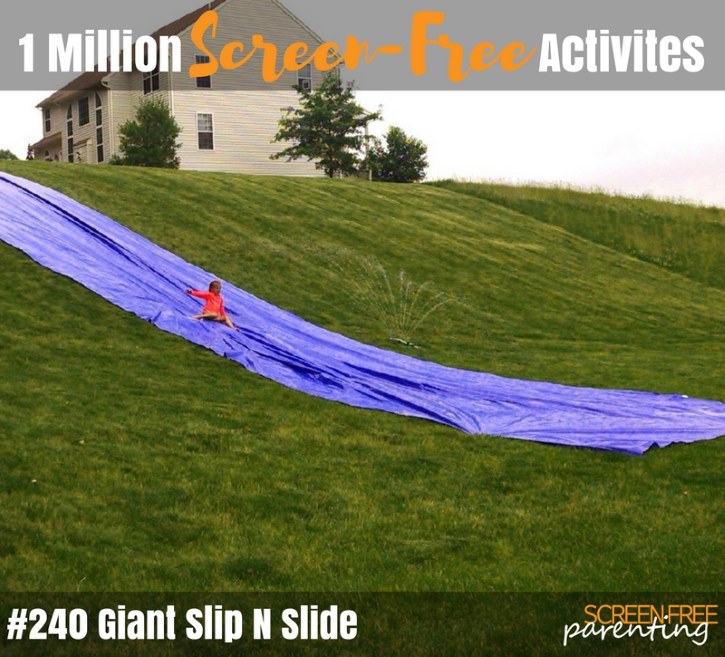 #240 Giant Slip N Slide
We recently attended a birthday party where this 75′ Water Slide was the main event. My daughter was the first on and we had to peel her off when we left. It was a huge hit with all of the kids and a few brave adults (who shot well beyond the end of the slide).
Stay tuned for more activities next week or go back and review everything up until now. Sign up for our newsletter to get 5 activities each week!
Join The Revolution
Sign up to have great articles like this one sent right to you in our Screen-Free Parenting weekly recap email.

*This post contains Amazon Affiliate links for your convenience. If you choose to make a purchase, Amazon pays Screen-Free Parenting a small referral fee at no additional charge to you.
** A copy of World Pizza was provided by the publisher in exchange for an honest review. As always opinions are my own.