We are on a mission to provide a list of 1 million simple things to do with kids instead of turning to media, a tablet, or a tv. Here are this week's easy screen-free activities for you to enjoy with your young kids. These are simple things we recently did with our kids and we share them with you to keep you thinking. Do these five or use them as a jumping-off point for screen-free fun. All activities are born out of our S.P.O.I.L. System which is our psychologically-based system for prioritizing child's play.
To view the original 1 Million Screen-Free Activities post click here.
To view last week's activities click here.
Get 5 Activities in your inbox weekly!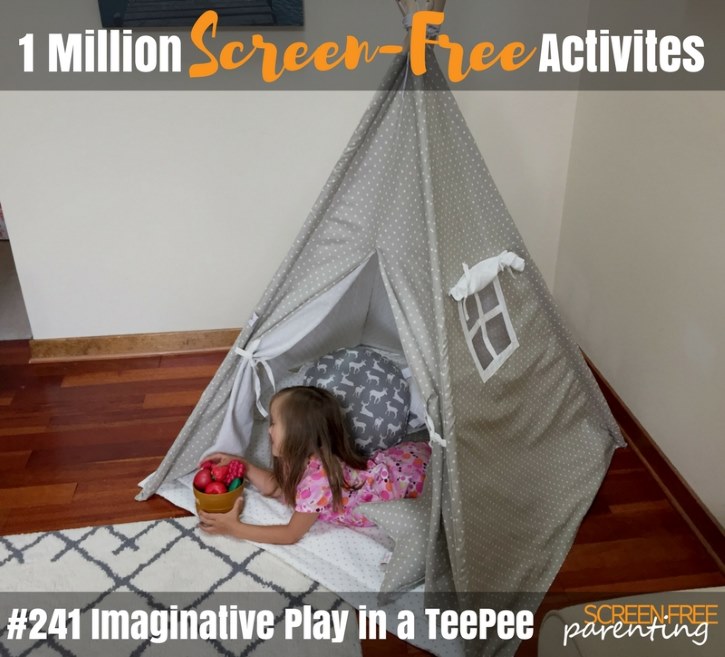 #241 Imaginative Play in a Teepee
If you follow our blog you know how we feel about reading nooks and little spaces where children can do their thing. Whether their thing is reading, napping, or simply playing we encourage it around here. Our friends at Teepee Joy noticed this and sent us one of their handmade Teepees which also included some great custom shaped pillows and a comfy floor mat. Our 5-year-old and 2-year-old were beside themselves when we set it up and our daughter has been begging us to let her spend the night sleeping in it since. Our daughter is currently reading the Laura Engles Wilder collection and is very interested in the Native Americans described in the books so this teepee has inspired lots of imaginative play.**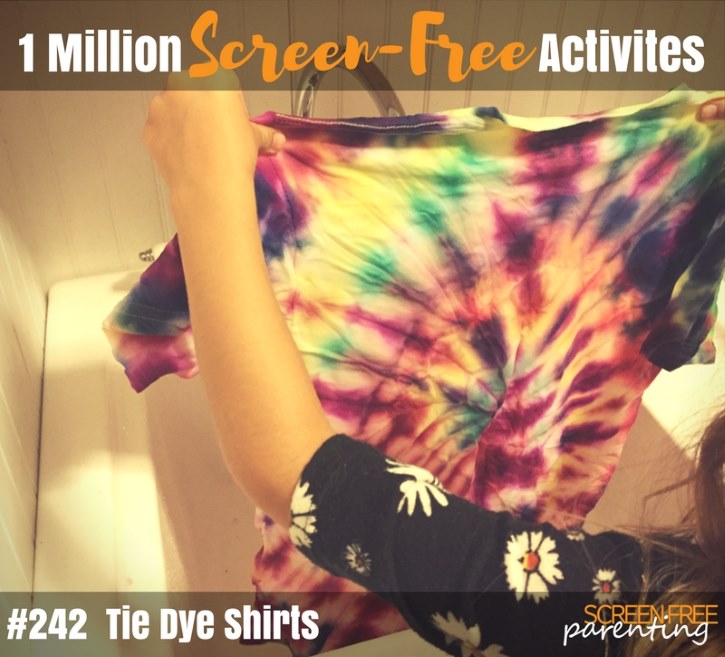 #242 Tie Dye Shirts
We recently went to a tie-dyed shirt craft event at a local craft store. Both my kids loved the activity and they love their new shirts. They enjoyed it so much I am considering buying an at-home kit.
#243 Sit on Some Lawn Tractors
No trip to Home Depot or Lowes is complete without a few minutes out front on the riding mowers.


#244 Milkshakes
Our local Wayback Burger recently offered free milkshakes to celebrate the start of summer. We keep our eyes peeled for free happenings like this in our area as they make for great quick trips and memories.
#245 Build a Sandcastle
Ok, my kids didn't build this awesome castle, but they sure enjoyed smashing it as the tide came in. We are still on the single-level sandcastle stage.
Stay tuned for more activities next week or go back and review everything up until now. Sign up for our newsletter to get 5 activities each week!

*This post contains Amazon Affiliate links for your convenience. If you choose to make a purchase, Amazon pays Screen-Free Parenting a small referral fee at no additional charge to you.
** Our awesome Teepee was provided by the small family business (teepeejoy.com) that makes them in exchange for an honest review. As always opinions are my own.