We are on a mission to provide a list of 1 million simple things to do with kids instead of turning to media, a tablet, or a tv. Here are this week's easy screen-free activities for you to enjoy with your young kids. These are simple things we recently did with our kids and we share them with you to keep you thinking. Do these five or use them as a jumping-off point for screen-free fun. All activities are born out of our S.P.O.I.L. System which is our psychologically-based system for prioritizing child's play.
To view the original 1 Million Screen-Free Activities post click here.
To view last week's activities click here.
Get 5 Activities in your inbox weekly!
Join The Revolution
Sign up to have great articles like this one sent right to you in our Screen-Free Parenting weekly recap email.
"Snappy Towns" are cloth car mats that depict enchanting little towns. We love them because unlike car rugs (we have a few) these can easily travel in a purse, bag or luggage on a trip. They are also more interesting to look at because they are beautifully hand-drawn. All the different shops and "sites" inspire imaginative play, which we love. They are also "snappy" because you can connect multiple mats with snaps on each end to make larger towns. Our 2-year-old is obsessed with toy cars and he has been asking for his "snappy towns" by name since we got this two weeks ago. Check out all the different themed mats on Etsy or Facebook. We got ours for free from the husband and wife who created them and follow the blog in exchange for an honest review, and honestly, our kids love these and we do to.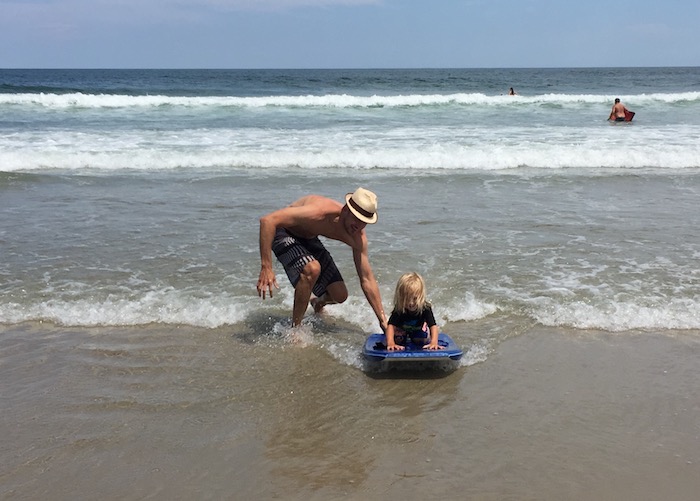 #257 Boogie Board
In this particular case it would be "learn to" boogie board. Our 2 and 5 year-olds are still working on it, but we are huge fans of all beach activities because there is so much fun to be had for the whole family. I cannot wait until the whole family can hit the waves together.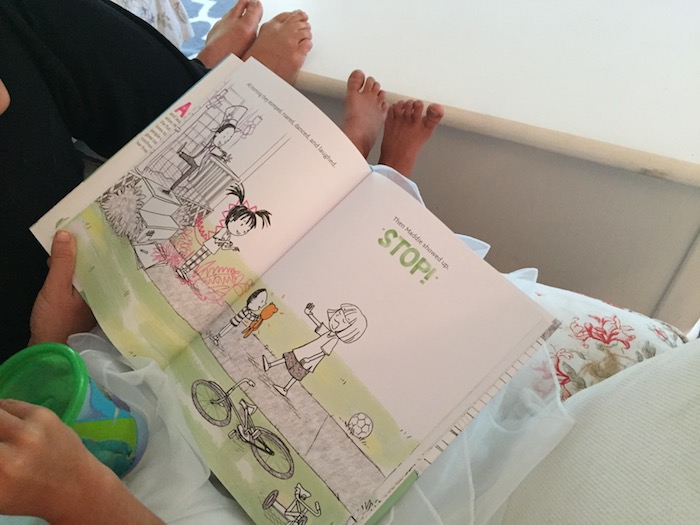 #258 Learn some Manners
One of the benefits of parenting screen-free is our ability to truly connect with our kids over a good book. We can easily pause a story to discuss a plot line that might be confusing or discuss a behavior that we don't agree with. Often we ask our children to try to explain why they think certain characters are acting a certain way in an attempt to teach them emotional intelligence and sympathy. So far that is working nicely for us. We recently enjoyed reading "Ally-saurus & The Very Bossy Monster", which included some great lessons about playing nice with friends. **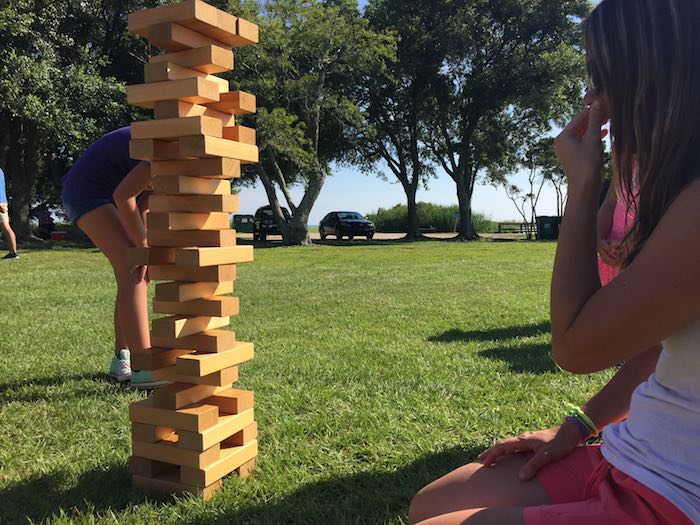 What could be better than a giant version of the classic game of Jenga out on the lawn?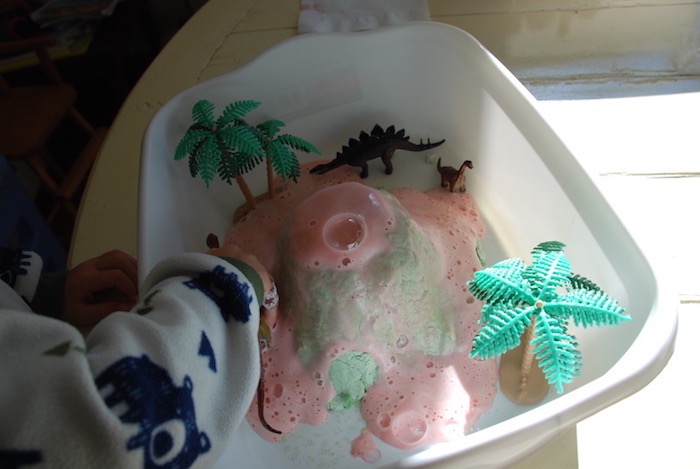 #260 Baking Soda Volcano
We used some modeling clay wrapped around a small 8 oz mason jar to form our volcano. Once that was done, we filled our mason jar volcano half full of regular vinegar and a few drops of red food coloring. Then take two sheets of toilet paper, lay them down on the table make a small pile of about a teaspoon of baking soda and wrap it up with a twist tie. Drop the baking soda bomb into the volcano and watch the eruption!  Add unsuspecting dinosaurs for extra fun.
___
Sign up for the email list to get more activities next week or go back and review everything up until now. Sign up for our newsletter to get 5 activities each week!

*This post contains Amazon Affiliate links for your convenience. If you choose to make a purchase, Amazon pays Screen-Free Parenting a small referral fee at no additional charge to you.
** Our copy of Ally-saurus and the Very Bossy Monster was provided by the publisher in exchange for an honest review. As always opinions are my own.