We are on a mission to provide a list of 1 million simple things to do with kids in place of screen-time. Here are this week's easy screen-free activities for you to enjoy with your young kids. These are simple things we recently did with our kids and we share them with you to keep you thinking. Do these five or use them as a jumping-off point for screen-free fun. All activities are born out of our S.P.O.I.L. System which is our psychologically-based system for prioritizing child's play.
To view the original 1 Million Screen-Free Activities post click here.
To view last week's activities click here.
Get 5 Activities in your inbox weekly!
#286 A Gratitude Jar
We should really do this year-round, but each November Screen-Free Mom grabs a mason jar, cuts strips of paper, and lays it all out with some markers at our table. As often as we remember, we each take a few moments to write out things we are grateful for. On Thanksgiving, we pull them out and read them as a family. We've written about gratitude in the past. Check out A Month of Personal Acts of Kindness for Young Kids and If Your Kid Has a Gratitude Problem, You Might be Causing it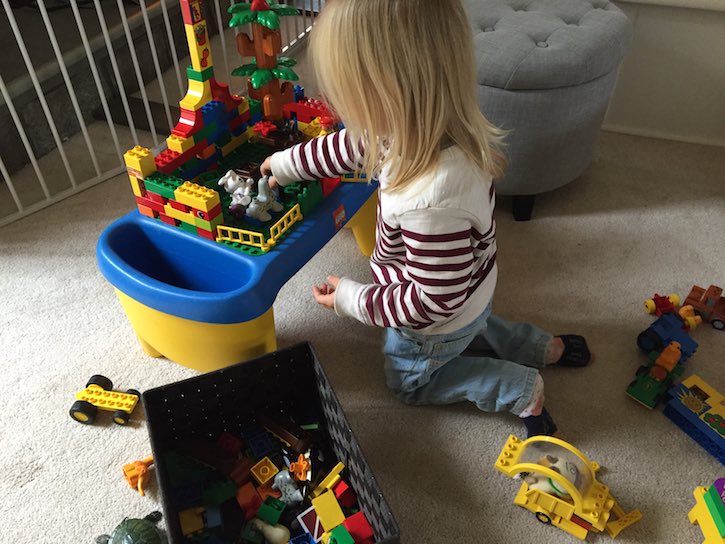 #287 Lego Duplo
Our children have been laying with Lego Duplo all week. They can spend hours creating different houses and schools. After the construction is over, they make-believe play with the little Duplo people and animals.
#288 London Bridge
The picture is terrible, but the fun was real. Our children sang and played the classic "London Bridge is falling down…" for hours at a friend's party. If you are unfamiliar, two children hold their arms together to create a bridge for the children to circle under. Whilst holding up the "bridge," they sing "London Bridge is falling down, falling down, falling down. London Bridge is falling down, my fair lady. Take the key and lock them up, lock them up, lock them up. Take the key and lock them up, my fair lady." During the "Take the key," portion, the bridge arms close around whichever kid happened upon it at that time.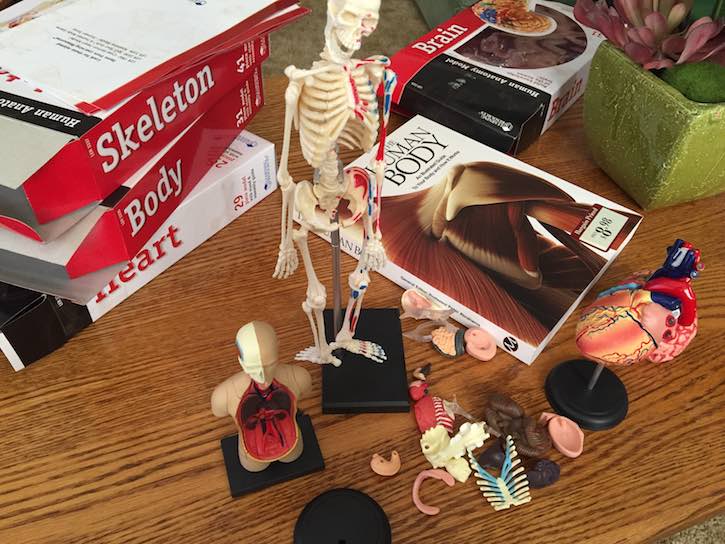 #289 Learn Human Anatomy
Our kids loved playing with this little human anatomy set at a friend's house. It's wonderful for the preschool/kindergarten age children who are starting to wonder about the human body. Learning is much more interesting when you have physical objects to manipulate.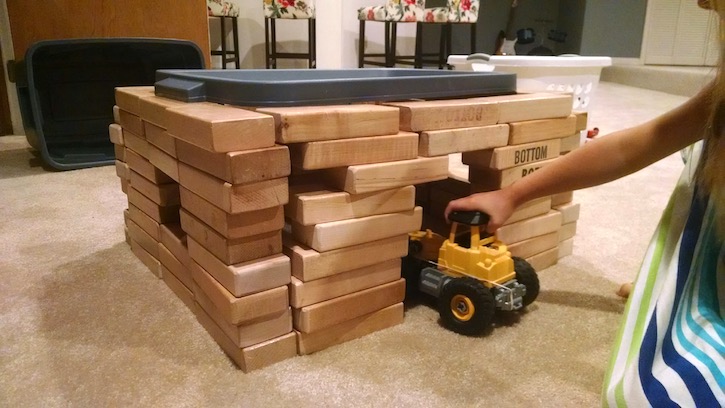 #290 Large Wooden Building Blocks
Construction has been a theme at our house recently. Don't worry, that's not because we are doing any Pinterest-worthy lesson plans or themes on construction. It's because that's what our kids have been playing with and we just snap a picture of their creativity in action. This past week, they created a garage (with windows!) for their vehicles. We scored these simple (and therefore awesome!) wooden blocks at a yard sale this past summer. Similar sets can be found here.
For more screen-free fun, sign up for our weekly newsletter for Techwise Parenting Articles and creative screen-free activities.
Join The Revolution
Sign up to have great articles like this one sent right to you in our Screen-Free Parenting weekly recap email.

*This post contains Amazon Affiliate links for your convenience. If you choose to make a purchase, Amazon pays Screen-Free Parenting a small referral fee at no additional charge to you.