We are on a mission to provide a list of 1 million simple things to do with kids in place of screen-time. Here are this week's easy screen-free activities for you to enjoy with your young kids. These are simple things we recently did with our kids and we share them with you to keep you thinking. Do these five or use them as a jumping-off point for screen-free fun. All activities are born out of our S.P.O.I.L. System which is our psychologically-based system for prioritizing child's play.
To view the original 1 Million Screen-Free Activities post click here.
To view last week's activities click here.
Get 5 Activities in your inbox weekly!
Join The Revolution
Sign up to have great articles like this one sent right to you in our Screen-Free Parenting weekly recap email.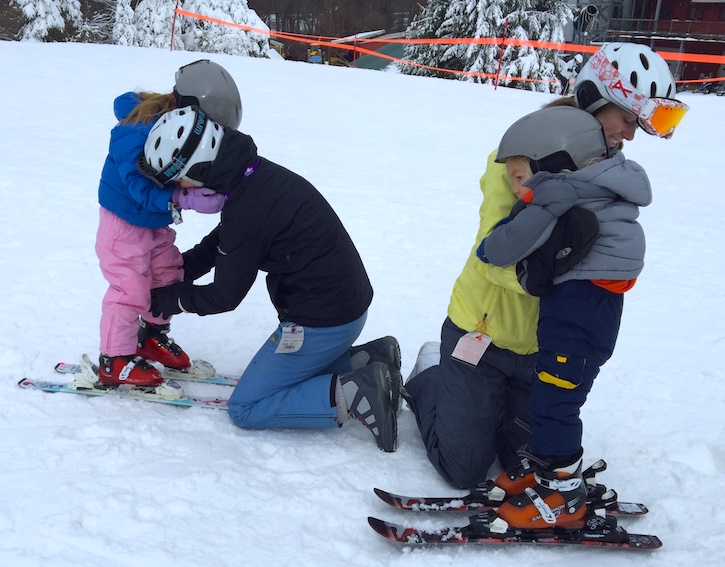 #301 Learn to Ski
We had an early snow this season (mid-December) so we rented some skis for the weekend and decided we would see if we (two snowboarders) could teach our kids to ski over a long weekend. The kids did great despite our lack of experience as skiers. By the third day at the mountain my 5-year-old was going down the entire bunny slope on her own. We found the Edgie Wedgie to be an indispensable $10 tool for teaching our young kids to "pizza" (aka stop). We also learned that shorter the skis are better for kids (ideally chest height), they don't need poles to learn and if you start with good equipment they will pretty much teach themselves. Our 2-year old who has no fear would have also probably learned a bit more if he was not so cold-averse. He did not learn to stop but loved the speed and we expect him to be skiing the bunny slope alone too with one more day of practice. After our successful weekend at the slopes, we scoured craigslist and the Facebook marketplace and scored them some good Rossignol skis for about $50 a set (with boots) and gave them to them for Christmas. This winter should be filled with outdoor fun.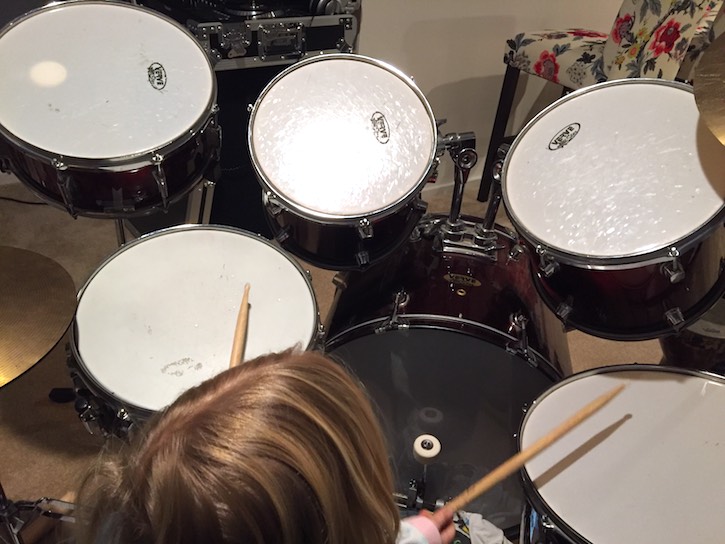 #302 Learn to Play the Drums
If you follow us, you know we love to go to yard sales. I have a rule: If any musical instruments is cheap, I buy it. So, in our basement we have quite a collection of musical equipment and by far my favorite is a beat-up old 5-piece drum set I got for the amazing price of $25. We have a First Act kids drum set down there too, but I don't recommend it. While it's the right height for a child, it is so cheap and flat sounding that our kids rarely use it. They much prefer to climb up onto the big stool and play the with the real set. Even when we have parties rarely do I hear the sound of the kid's set from upstairs. Drums are loud so I started keeping a set of the kids baby bans by the drums to save their hearing. My 5 and 2-year-old are too short to operate the foot pedals from the seat, but they are learning a lot of coordination and can both somewhat keep a beat. I personally love the mental challenge of using both hands and feet to play the 5 piece. My set was scored at a garage sale, but if you wanted a similar starter set, Mendini makes a decent starter set.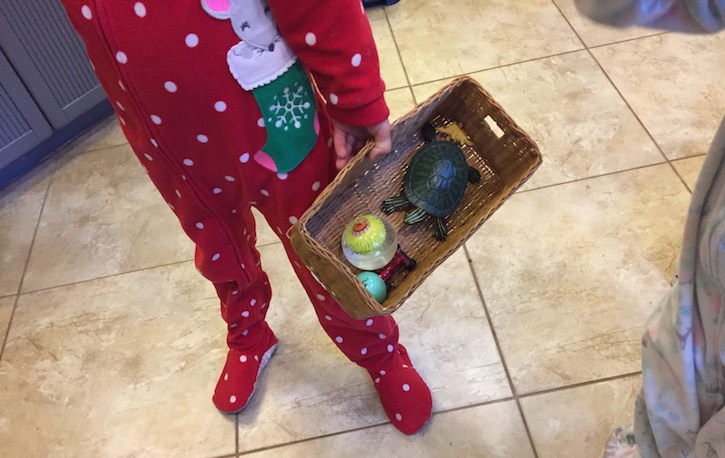 #303 Smallest or Largest Game
I was feeling lazing one day last week. I still wanted to play with my kids, but I didn't want to run around. Much like Screen-Free Activity #145 "What's on my Butt?!" I came up with this quick game that both kids loved and required nothing from me. I laid on the couch and gave them exactly 1 minute to run and find me either the biggest or the smallest thing they could find based on a category I provided. First I asked them to "find me the smallest ball" they could find. Then they raced off and came back with a golf ball and a super ball. They golf ball won. Then (and this is important) they had to return their finds before the next round could begin. I then asked them to "find me the smallest plastic animal" to which they brought me the turtle and a plastic dinosaur. It was lazy for me, but fun for them.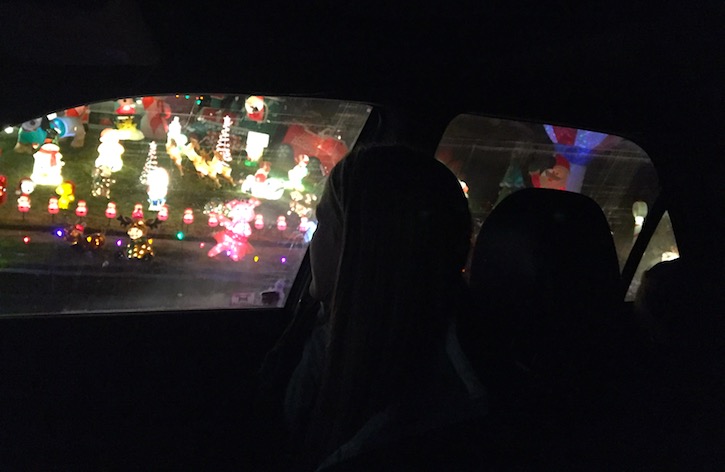 #304 Holiday Lights Tour
On this particular evening we were coming home from dinner and had a few minutes to kill before the kids bedtimes, so we went through our neighborhood. Thanks to all the extreme holiday decorators out there for entertaining our children.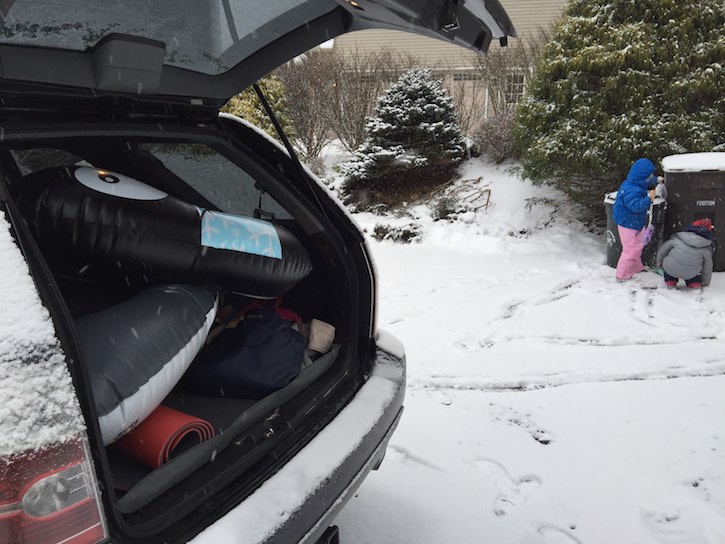 #305 Find the Best Sledding Hill in Town
We would never normally advocate for driving to a sledding hill if you can walk to one, but in this case we had one of our kid's grandparents along and we didn't want to make them walk to our local hill after a recent snow so we opted to drive. We are lucky to have one of the best sledding hills in town located very close to our house so we usually walk. This year our favorite snow tube popped, so after searching online and in several stores we settled on the Big Mouth Penguin and Flying Squirrel. While they are not the thickest plastic, our kids loved the designs and they are cheap. After buying them, and much to everyone's delight, we realized they were crazy fast and went way further than our old tube. Screen-Free Parenting Approved.
For more screen-free fun, sign up for our weekly newsletter for Techwise Parenting Articles and creative screen-free activities.

*This post contains Amazon Affiliate links for your convenience. If you choose to make a purchase, Amazon pays Screen-Free Parenting a small referral fee at no additional charge to you.