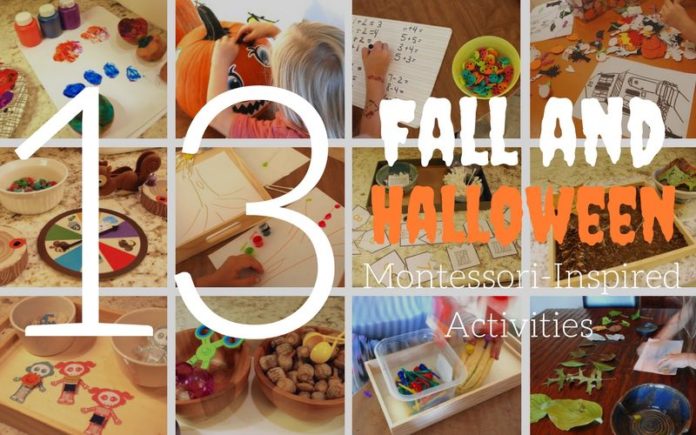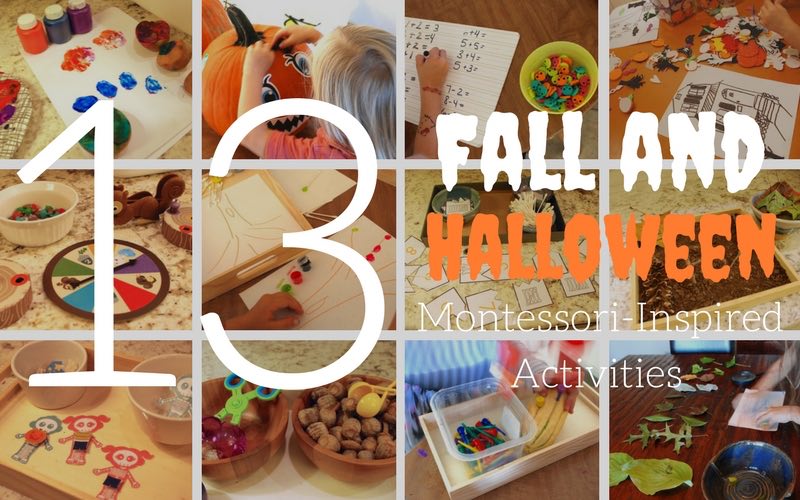 As screen-free parents we have loads of things for our kids to to do in our house instead of engaging in screen-time. Our children (currently 2- and 5-years-old) spend most of their time engaged in make-believe play, running wild outside and reading books. They also do a fair amount of chores and school-like "work." I regularly provide them materials and small activities, based on their interests and at a level they can succeed. I don't spend time focusing on things they don't like.
One thing they do like: Montessori-Inspired activities or "jobs." We keep a shelf in our kitchen with 8 Montessori-inspired activities that I switch out every couple of days. The kitchen location works great for us because the kids will gravitate towards their Montessori "work" when we are preparing meals or getting ready in the morning. We originally went over all our children's favorite Montessori activities in this post: Screen-Free Alternative: Self-Directed Learning with an At-Home Montessori-Inspired Shelf.
After I switch out their "jobs," my children flock to the shelf with "oohs," "aahs" and the phrase, "Look! New jobs!" I try to add a few new jobs based on the current season. Here is what has been keeping our kids busy this Fall, with some Amazon Affiliate links* and free-printable links.
Q-Tip Tree Painting
I drew the outline of a tree on a few blank sheets of paper and provided Q-Tips and small paint containers. My five-year-old enjoyed this job. However, my two-year-old LOVED it. He has been painting with Q-tips ever since. It's also helping his fine motor control a great deal.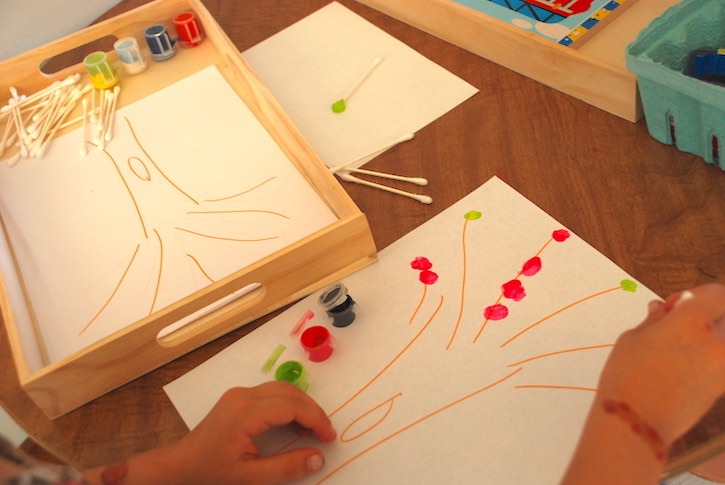 Sticker Pumpkin Decorating
We picked up some pumpkins early and we will carve them closer to Halloween. For now, I put the pumpkins in their shelf with some decorative stickers intended for pumpkins. They had a great time making ridiculous faces complete with sideways eyes and mustaches for beards.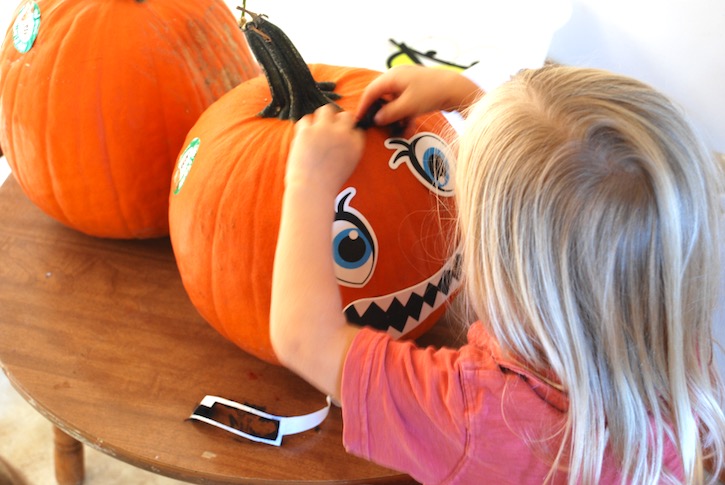 Squash Hammering
We have a child's hammer and plastic "nails" which we use for all sorts of activities. We simply put the hammer and nails on a tray along with a squash, which was a great seasonal item to hammer into.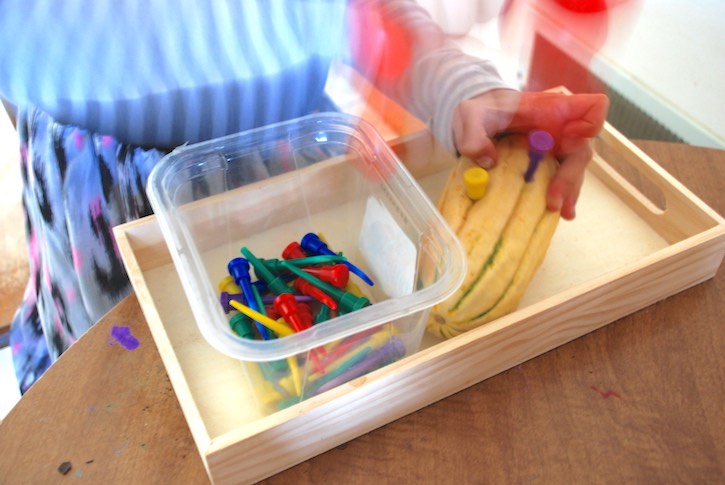 My daughter loves math. I printed this activity out, laminated it, cut the apple answers out and added Velcro to the back of apple "answers" as well as to the apple "problems." My daughter really enjoys this one and the Velcro makes it more fun.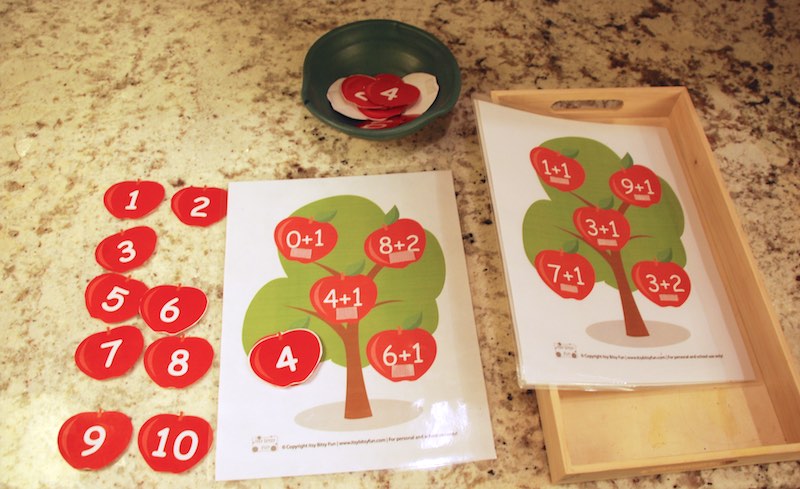 Velcro Paper Dolls
This free paper doll printable is adorable. I laminated the dolls and added Velcro to the clothes and dolls, so it could be more sturdy, reusable and friendly for my two-year-old. Thanks for the idea Living Montessori Now!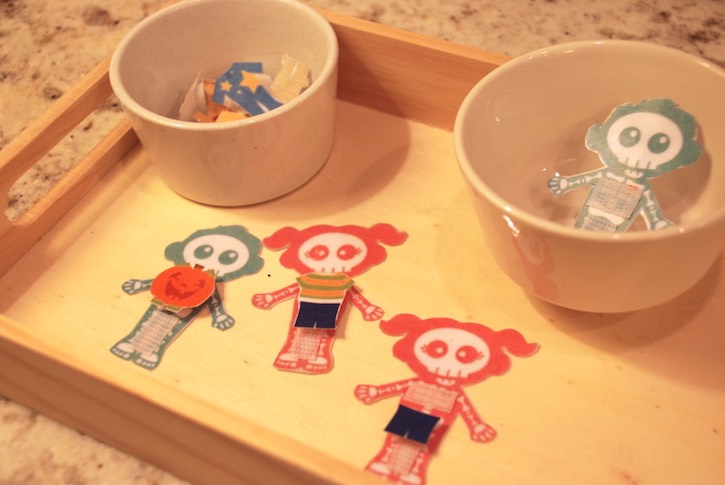 Leaf and Dirt Letter Writing
We collected leaves from our neighborhood (a great screen-free activity, in and of itself!) and wrote out one letter of the alphabet on each leaf. We added them to a tray with small amount of soil and a stick. The children enjoy writing their letters in the dirt.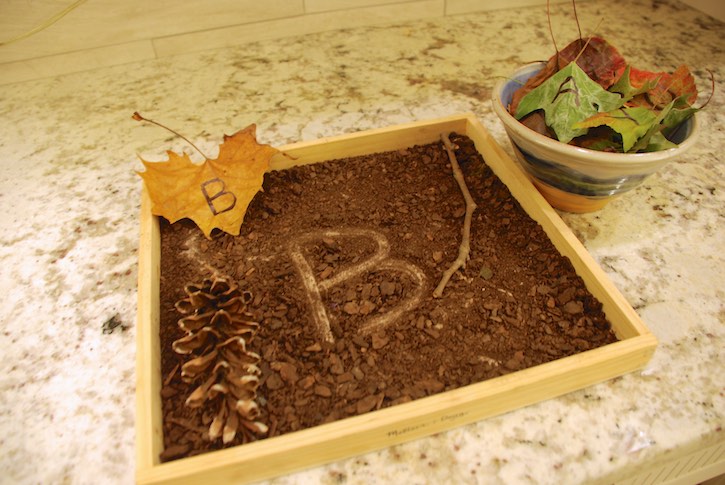 Q-Tip Bone Counting and Printable Puzzles
We printed and laminated these adorable puzzles and added Q-tips (bones) to make it three-dimensional.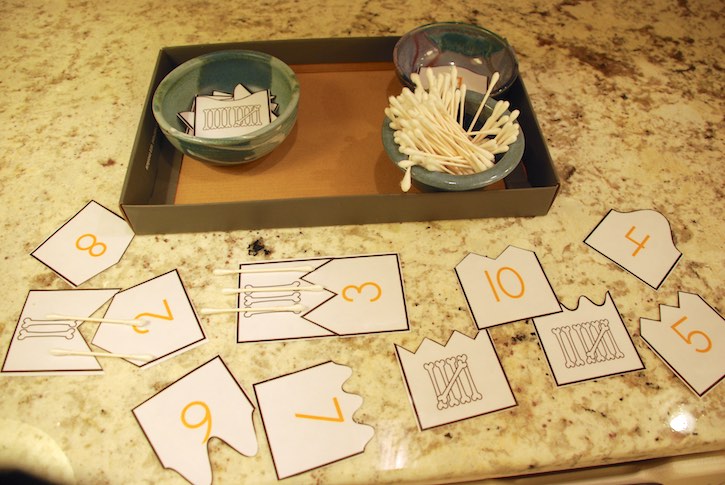 Acorn Transfer
We collected acorns from our neighborhood and simply added them to one bowl with another empty bowl on the tray, which the children can "transfer" the acorns into. I recommend some good child-size tongs for this activity.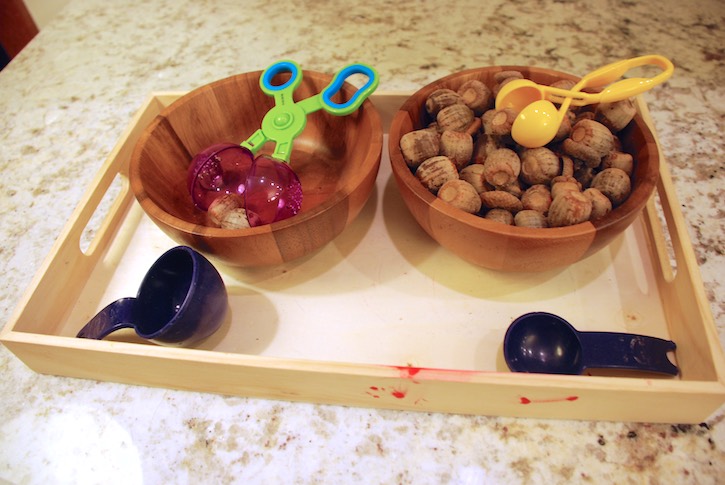 Leaf Matching & Crayon Rubbing
My children and I went on a nature hike and collect pairs of leafs. I used those pairs of leaves for a matching activity on their shelf. I added some paper and crayons and they made leaf rubbings, in addition to matching up the pairs.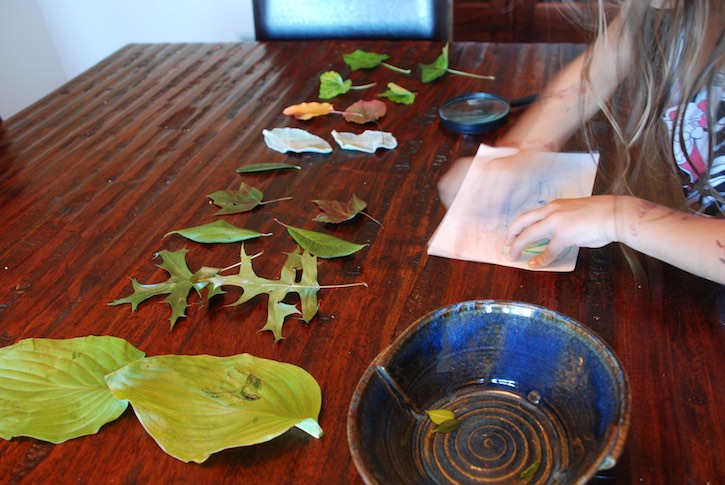 Apple and Potato Stamping/Painting
This is a favorite activity in our house. Just some cut up apples and potatoes added to some paint. This one requires some supervision, but my kids seem to really enjoy the messy jobs.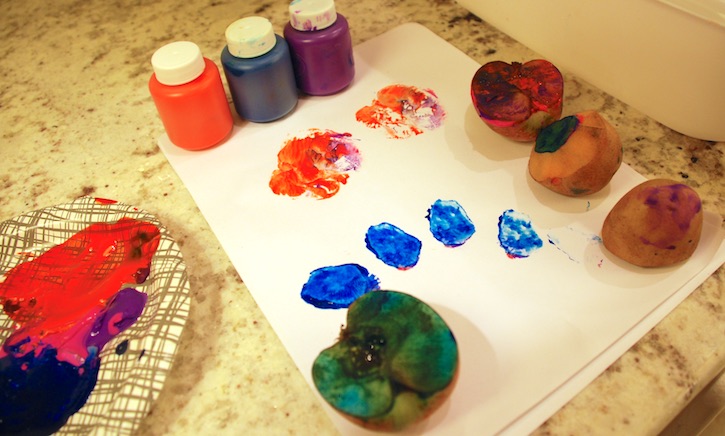 This game is a really fun game. In addition, it's great for all the skills that the average preschooler is working on naturally: color recognition, taking turns and fine-motor control with a tweezers. I added it to my Fall-themed activities because of the acorns.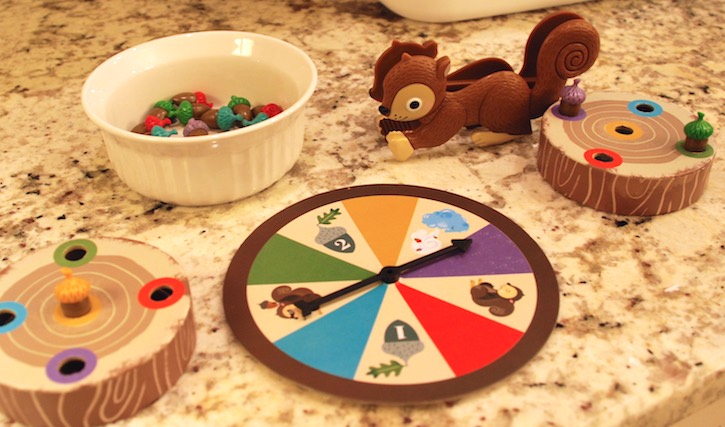 Skull Color Categorization
My two-year-old enjoys sorting by color so I picked up some cheap colored skull erasers and added some different color bowls. He happily sorts all the skulls. For my daughter, I set the skulls up in patterns and she completes the patterns. They also work great as "counters" in her math activities. These multi-color animal counters would work well in a variety of shelf activities.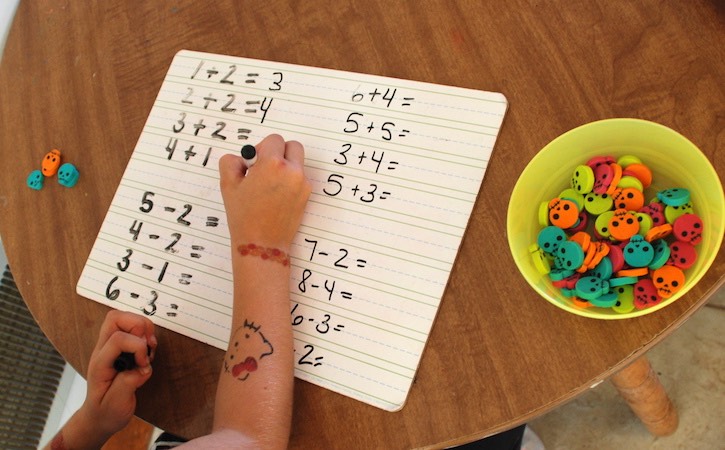 13. Decorate a Haunted House
Since it is almost Halloween and we had a ton of Halloween foam stickers in our craft supplies, I thought I would draw some quick sketches of haunted houses and let the kids decorate them. This activity recently featured as activity #266 in our never-ending list of 1 Million Screen-Free Activities. Sign up for our email list to get 5 activities sent to your inbox free each week to keep you motived.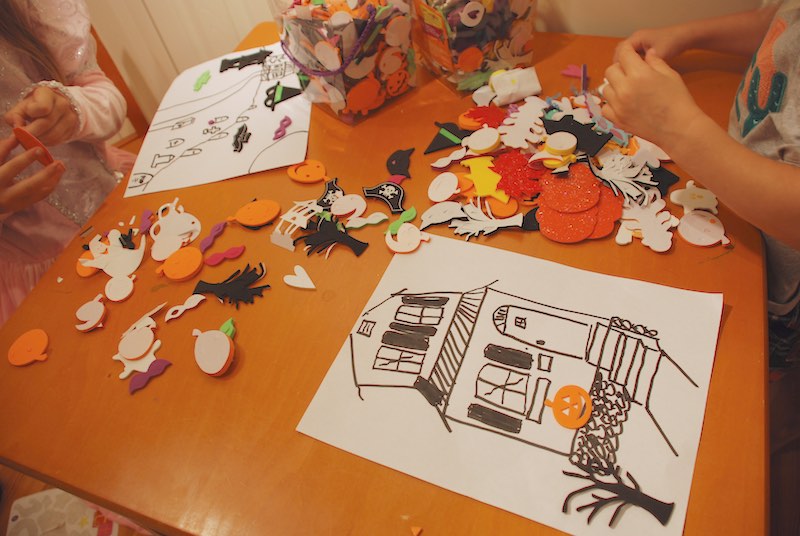 What Kid Would Chose Screens over All This fun?
Being a screen-free parent encourages me to be a more fun, engaged and creative parent. I don't think my children would chose screens over these activities any day. Would yours?
*If you chose to purchase something via an Affiliate Link, Screen-Free Parenting receives a small commission, at no additional charge to you. Thank you for helping us to keep the blog running.