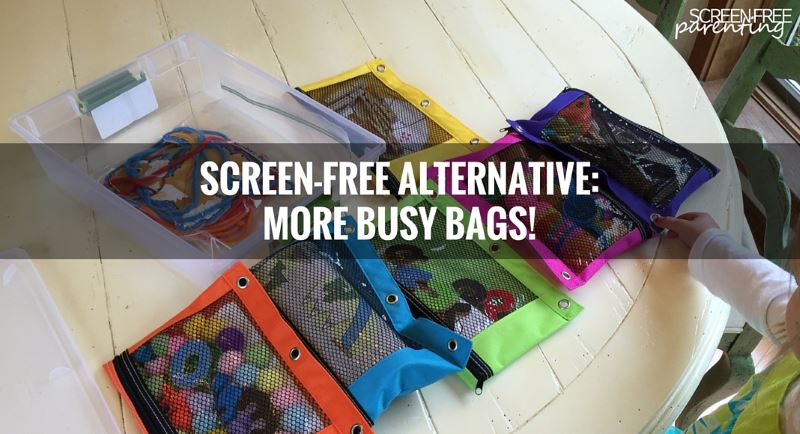 My original busy bag post can be seen here. People seemed to really like it and my kids continue to love their busy bags. I am amazed by how intently my one-year-old will play with them. I am focusing this post on six busy bags that keep my preschooler (age 4) busy. Check back soon to see six busy bags that really keep my toddler (age 1) busy.
I am a very basic "busy bagger".  There are whole websites devoted to different unique and appealing busy bags. My strategy with busy bags is that I often take things we already have or that I found at a yard sale and turn it into a busy bag.  It's all about presentation. The little puzzles in there would be meaningless to my kids if they were on a shelf in the playroom.  But, because they are in these brightly colored pencil pouches and usually out of reach unless I need to keep them busy, my kids love them.
On a side note, I am huge fan of keeping busy bags in these three ring binder pencil pouches.  The nostalgia it brings is an obvious plus.  However, the true winning appeal is that I can throw them easily in my diaper bag when we make a trip to the doctors or any other waiting place. (To see my "Waiting Place" article for more tips on keeping your kids entertained on the go, click here.)  I also throw them in a three ring binder for road trips.
Lately, we have been sharing some great yard sale finds, as it is yard sale season here in the Screen-Free Parenting world. Here are six new busy bags that I made with some yard sale finds.
Screw Pattern Recognition
Screen-Free Dad made this busy bag.  Since she was old enough to be trusted with small objects (about two), our four-year-old has loved playing with and sorting Screen-Free Dad's nuts, bolts, and screws. He created this busy bag for her so she can play with them and place them on a puzzle. This helps with her hand-eye coordination, simple counting, and one-to-one correspondence.  I am confident our one-year-old will love this job too, but he is not yet trustworthy with small objects.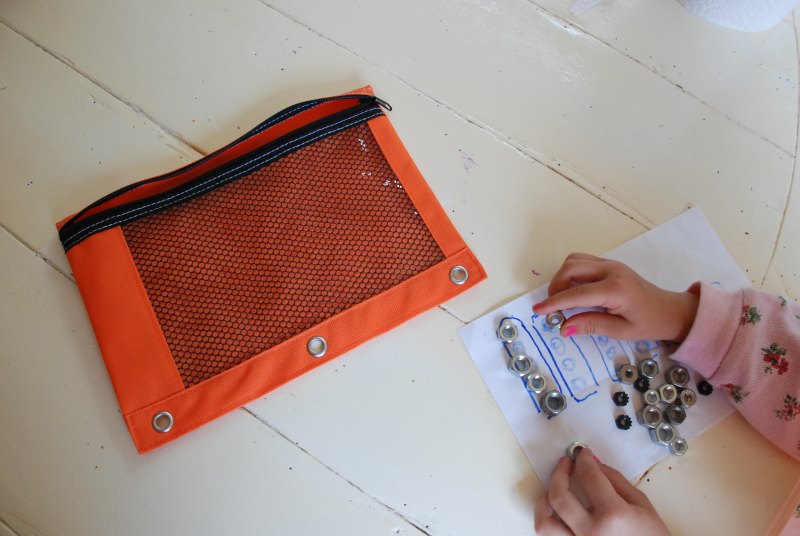 Card Spelling
This is a great set of self-correcting spelling cards.  The child must match which vowel fits to spell the word correctly. But the vowels are matched via the puzzle shape as well. So, your child will be unable to chose the wrong vowel. This is great developmentally for where our four-year-old is currently. She understands the concepts of reading and spelling very basically but would likely not be able to complete, nor enjoy these cards without the self-correcting aspect.  She loves them. This is the set we have.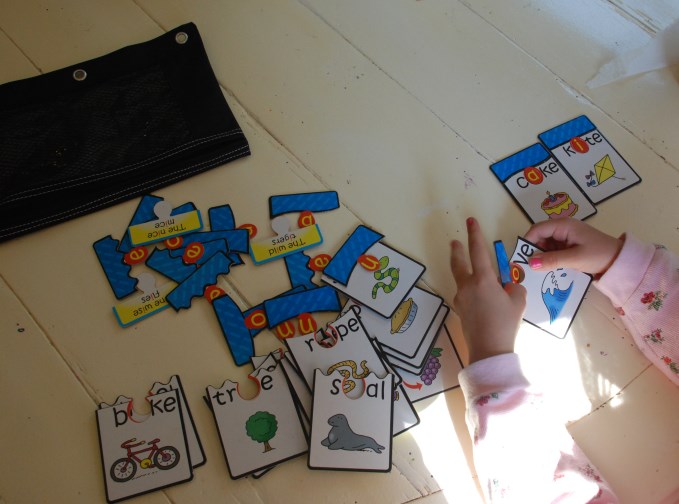 An Introduction to Sewing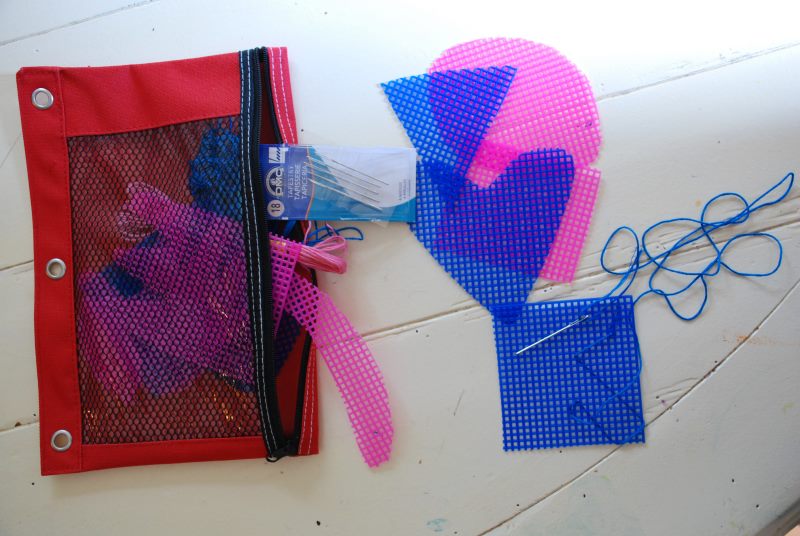 I realize not everyone would be comfortable with kids and needles. I can say these needles are rather blunt. I also follow the Montessori principles that is appropriate to give children these tools as they are ready so they may learn about them.  Our four-year-old loves lacing and has a Melissa and Doug Lacing set that we talk about in our original busy bag post. But, she is getting a little too advanced for that. So, I picked up some plastic canvases, canvas needles, and pretty yarn. I cut the grids into fun shapes and now, she can learn basic sewing skills. This is excellent for her fine motor control and hand-eye coordination. Here are some precut plastic grids in great shapes, the needles, and yarn we use.
Spelling Puzzles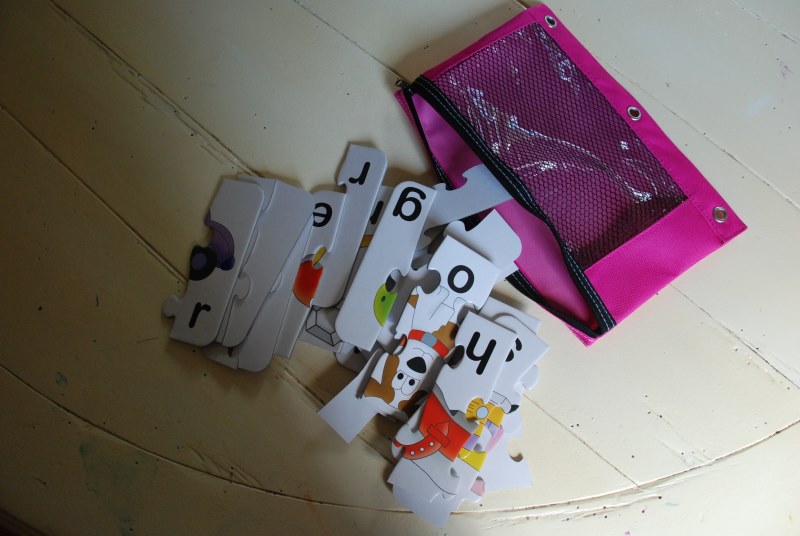 These bright and colorful spelling puzzles are fun for my four-year-old. She loves doing them and the set came with enough puzzles to fill three busy bags.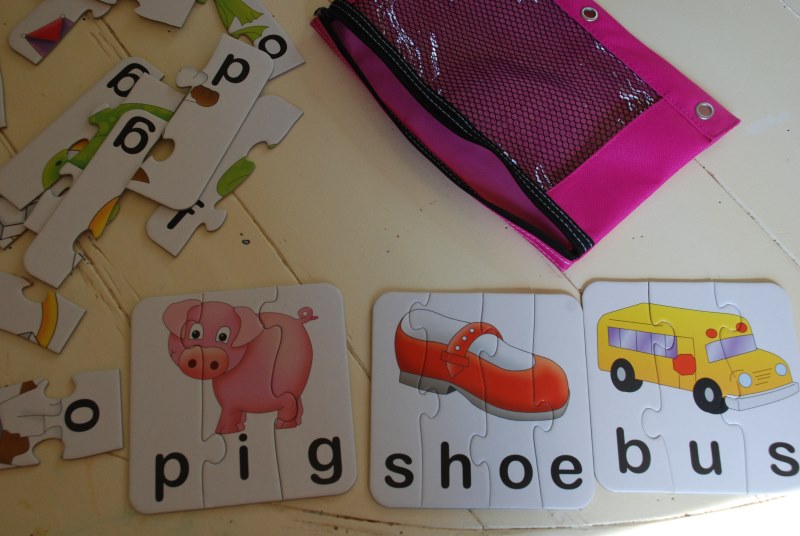 Sewing with Large Buttons
We got the idea for this busy bag from our four-year-old's school and a craft she did with her grandmother there.  This bag contains some blunt needles, thread, pieces of burlap, and large buttons. She loves this even more than the other sewing busy bag. Perhaps because she can sew the buttons to the burlap.  Here are the buttons, burlap and needles similar to ours. Thank you to our grandma for this busy bag!
The Bead Job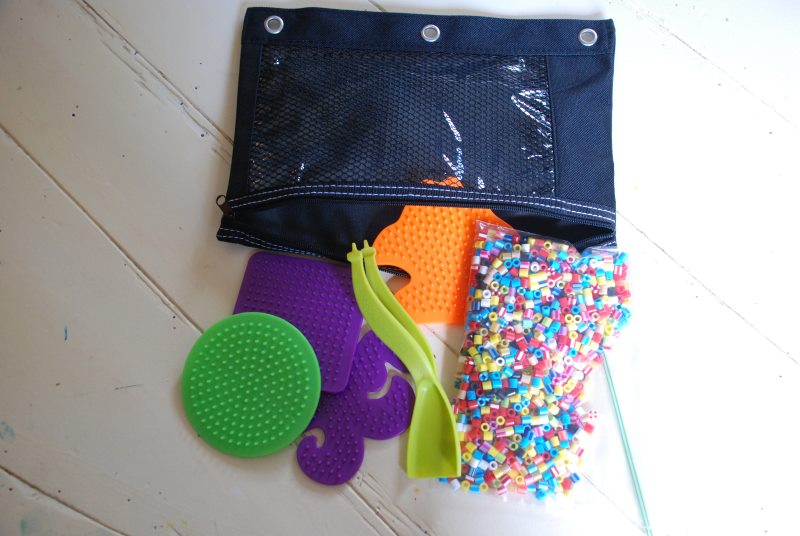 You can probably sense a theme of challenging fine motor control activities. This is what our four-year-old gravitates towards and I tend to introduce her to activities based on things she has already expressed an interest in. This busy bag is a real challenge for her fine motor skills, which is hard to find.  This is a set for creating fused bead art.  We don't actually fuse the plastic beads (done with an iron). Rather, she uses the included tweezers to try to put the beads on each little plastic piece in neat patterns. Here is the set we have.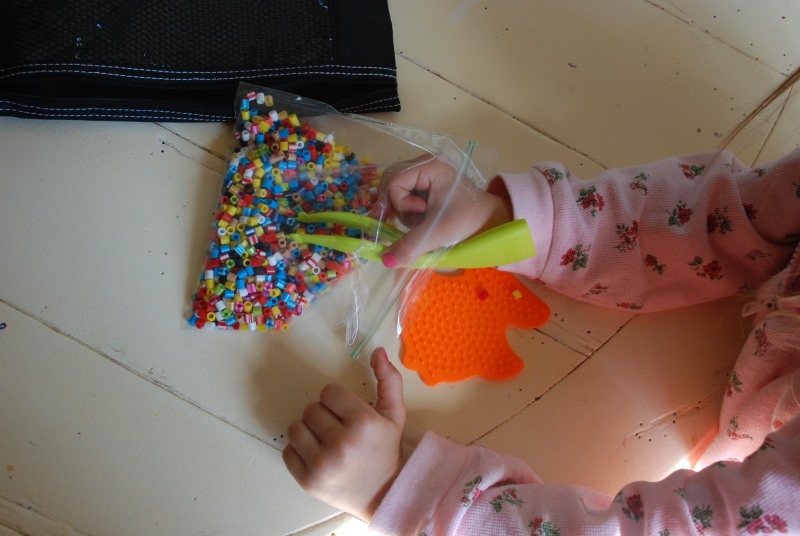 Bonus: The "Poking" Job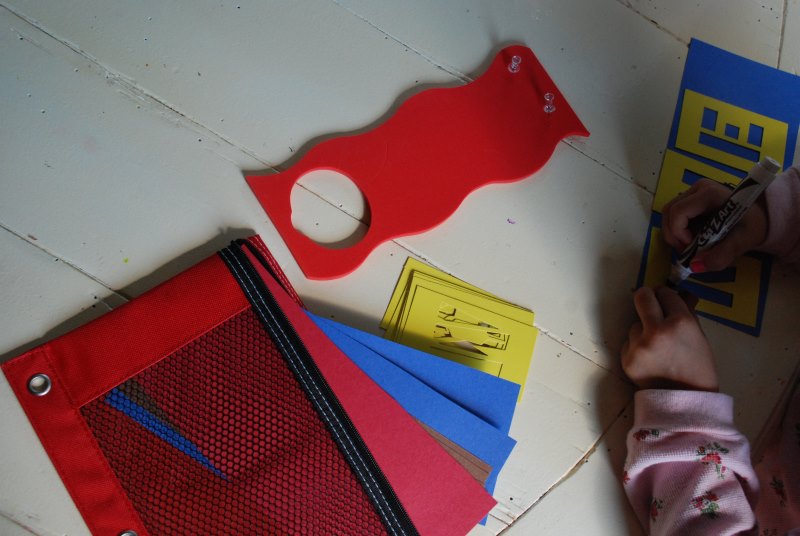 This one is hilarious for the name alone, titled by my four-year-old. She does a similar "job" at preschool and I had to ask them about it after I kept hearing about the "poking" job. Since it keeps her so busy at school, I created a similar version at home. This busy bag contains a push pin, pieces of construction paper, letter stencils, a marker, and foam (so she doesn't poke the table).  At school, she uses animal stencils. So, we chose the letter stencils because I had them and I figured she could spell her name and work on letters at the same time. She traces her name out with markers, puts the foam under the paper, and "pokes" with the push pin along the lines. She loves it.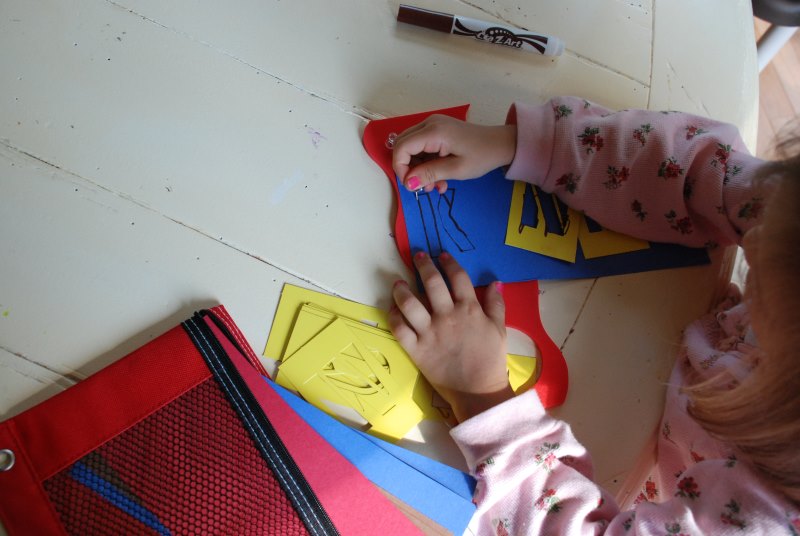 Conclusion
I hope these inspire you to create some neat busy bags tailored to your preschooler's particular interests and challenges. Check back soon to see six more busy bags that are keeping my kids entertained and learning, sans the screens.
Join The Revolution
Sign up to have great articles like this one sent right to you in our Screen-Free Parenting weekly recap email.
*This post contains Amazon Affiliate links for your convenience.  If you choose to utilize the links, Screen-Free Parenting receives a small referral fee at no additional charge to you.