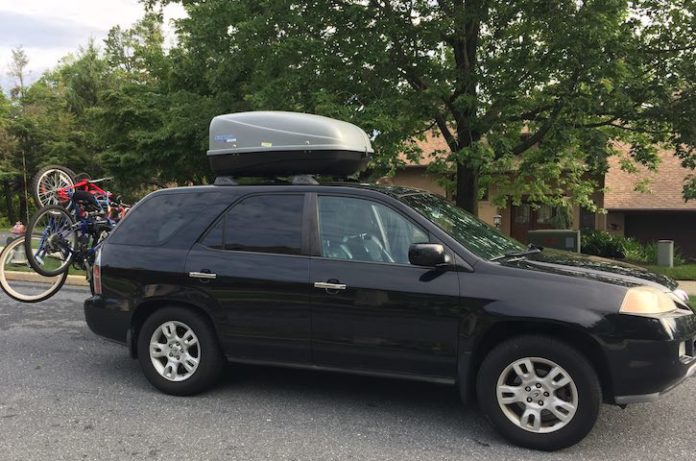 Screen-Free Kiddo number one is super easy on car-trips. She loves to read and all things crafty. Therefore, we can easily pack her a bin of supplies and books she hasn't seen yet that leave her asking us to "drive a little further" at the end of a ten-hour car trip. (We won the parenting lottery on that one, I know).
Screen-Free Kiddo number two is less interested in the crafty/coloring activities. In his defense, he is only two-years-old. But, I do think there are some personality differences. Therefore, this article is for the parents of kiddos who will not be entertained by scratch art, Water Wows and travel coloring kits on the road.
We recently took a road trip (twice) that lasted a little over ten hours. Both kids were amazingly well-behaved. Last year, we wrote our Ultimate Guide for Keeping Kids Happy in the Car. This year, here's what kept our two-year-old happy in the backseat. He's two now and is a great car traveler. Even though he is older than last year, he is still a tough one to pack entertainment for in the car. On the average day, he rides his plasma car for 3 hours, runs around naked in my back yard for 5 hours and spends the remaining time jumping off my couch. He is not a sedentary guy.  Some of the toys highlighted are electronic and not the variety we typically promote. However, when you are in a car for ten hours, you do what works (and is screen-free!).
This kept pretty much everyone in our car entertained. Admittedly, as a family we all have a very juvenile sense of humor. The kids simply push their fingers in this putty and it makes fart noises. There were lots of giggles.
Balloons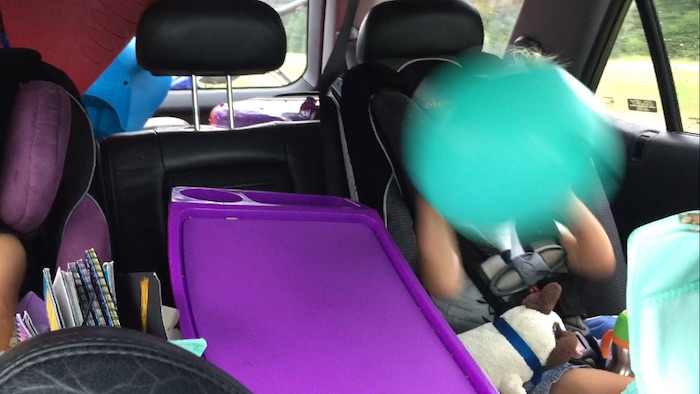 I cannot attest to the safety of this idea but both my children had a blast hitting balloons back and forth to each other. They also happen to cheap and take up very little room until you blow them up.
This small game flashes and cheers when the child is able to get the ball into the miniature hoop. No pieces can be lost which is great for a road trip. It was challenging for our five-year-old and she played it quite a bit. Our two-year-old quickly learned that he could simply shake the ball and eventually he would "win."

This little house has a couple of modes and tons of buttons. Children can ring the doorbell, open the fridge and move things around and even hear a story. It keeps our son pretty interested for a while so we bring it even though it is larger.
Musical Instruments
I packed a little pencil case filled with small musical instruments for my son. He was especially entertained by a toy microphone that plays music and a harmonica. He serenaded us while we drove.
These offer a way for my son to play with blocks in the car without losing them to the depths of the vehicle. They are really quite enchanting and you can make some interesting combinations.
A Purse
My kids love purses. I pack a "purse" for each of them filled with fake phones, chap stick, play keys, a play camera, etc. This kept my son entertained for a quite a while.
It Can Be Done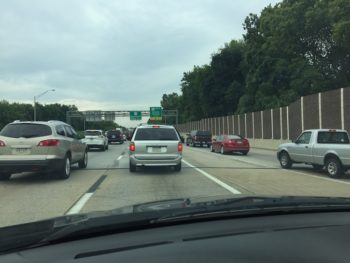 Our recent road trip was supposed to be eight hours each way. Factor in Summer traffic and stops and it took us roughly eleven hours. I think the adults were more irritated than the kids. Both my children did great in the car. My advice is to:
(1) Pack a lot. We pack a lot of toys for our kids on a road trip. We display them on hanging seat back organizers, making it easy for them to reach things independently. We also pack an entire reusable grocery bag full of books and sit it within arms-reach. We love the paperback scholastic books for this because they are so light and small. We also use these little toys and books when we are at our destination.
(2) Take it easy on yourself and your kid. Keeping your car sane and safe is worth something, even at the cost of a screen stupor. I'm happy we didn't utilize screens but I wouldn't worry too much if you decided to.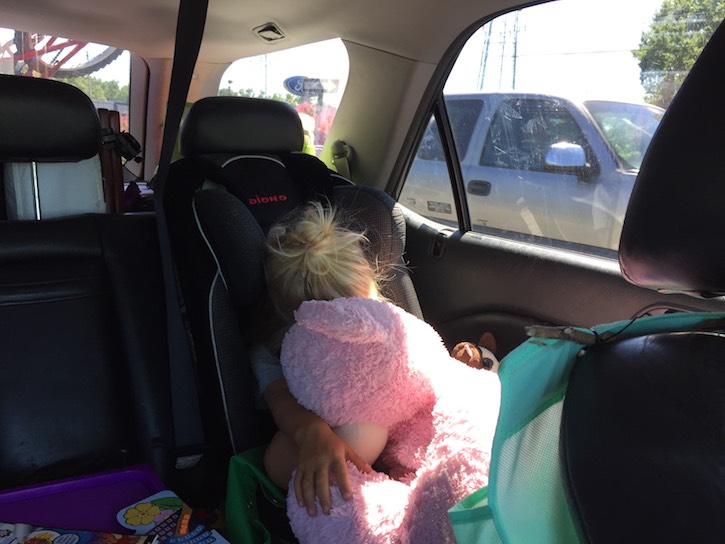 Happy Road-Tripping Screen-Free-ers!
If you have an upcoming road trip (or plane trip), check out these other articles:
Screen-Free Road Tripping: The Ultimate Guide for Keeping Kids Happy in the Car
Screen-Free Road Trips: Entertainment at Kids' Fingertips (Sans Swiping)
Screen-Free Road Trips: Family Car Games
Join The Revolution
Sign up to have great articles like this one sent right to you in our Screen-Free Parenting weekly recap email.
*This post contains Amazon Affiliate links for your convenience. If you choose to make a purchase, Amazon pays Screen-Free Parenting a small referral fee at no additional charge to you.