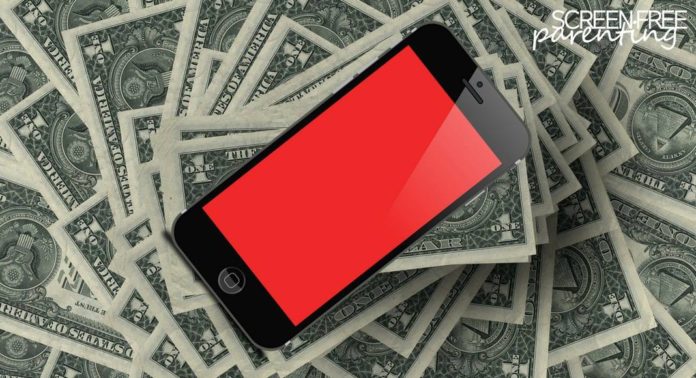 There is little regulation of what is deemed and advertised as "educational" for babies and young children. It is largely up to the developer to categorize it as such. Naturally, this term helps increase application and program downloads. Apple reports that it has over 80,000 "educational" applications available for download. Application downloads are big business with over $20 billion spent on applications in 2015. Interestingly, applications for toddlers and preschoolers make up 58% of "educational" apps, a group which surprisingly may be the least likely to benefit from "educational" material presented via a screen.
The sheer abundance of applications, games and programs for children under the age five implies that these are good, helpful things for children. Dimitri Christakis, a well-known researcher of children and media, reports that typical child is spending about 4.5 hours per day with screens before age 5, which is about 40% of their wakeful time. A 2006 study taking place in the United States found that 58% of children under 3 watch TV everyday and 30% have a TV in their bedrooms.1 The statistics surrounding television sets in the bedroom are concerning because it makes supervision of child programming and overall use much more difficult. Television sets in the bedroom are also tied to sleep problems and greater use overall.
They Want Your Baby
The baby media market has grown steadily since its introduction in the early 1990's. Baby Einstein was one of the first line of videos designed specifically for babies. What is notable here is they were not just designed for babies, they boldly claimed to be "educational."
The videos were (and are) incredibly successful with over 1/3 of babies between the age of 6 months and 2 years having viewed a video. It is estimated that the Baby Einstein videos (owned by the Walt Disney Company) sold over $400 million worth of videos and baby products. After lawsuits and a push from the Campaign for a Commercial Free Childhood, Disney dropped the term "educational" from their marketing materials and offered lifetime refunds for the DVDs to all customers. Another company "Your Baby Can Read" has faced significant challenges from legal battles as a result of its claims to help teach your infant to learn to read via flashcards and DVDs. The Federal Trade Commission charged the company made unfounded claims in its efforts to sell products to parents looking to help their child and slapped the company with a$185 million dollar judgement. However, the company renamed a similar product series "Your Baby Can Learn" and is back to the old tricks. The Campaign for a Commercial Free Childhood has requested the Federal Trade Commission open another investigation into the new company.
Parents turn to these applications and programs with a genuine belief and hope of helping their child. Survey studies indicate that parents do believe their infants can learn from DVDs. However, in a randomized controlled trial, families of babies were given either a popular baby reading program (that consisted of DVDs, flashcards and books), or were followed without use of any such products. Over 7-months of use, the babies did not learn from the popular product. Despite the results, many parents were very confident in the products. Parents want to believe that what they are doing for their children is helping them. Parents cite language and attentional abilities as two key ways they hope these baby products will help their young child.
What does the research say?
Language Acquisition
"I feel like maybe his language isn't as good as it should be. I don't understand it all. I make sure to show him Baby Einstein every day." –A parent participating in a research study
Several studies, both correlational and experimental in nature, have attempted to answer the question of whether young children can learn from videos. In a correlational study, researchers found that for every hour of baby media infants between 8 and 16-months viewed (per parent report), they knew 6 to 8 fewer words. This finding was further strengthened by a laboratory study where infants failed to learn object names that were presented via a television episode. In an experimental study, 12- to 15-month old babies failed to learn any words from an educational baby video designed to teach vocabulary. In fact, those babies who had significant exposure to the videos did not perform any better than babies who had no exposure at all.
A particularly well-designed research study found that toddlers did not learn any more words from a baby video than a control group who did not watch the videos. Children either watched the video by themselves 5 times per week for four weeks, watched with a parent, or the parent was given the list of target words and told to naturally integrate them over the four weeks. Only those toddlers whose parents used the words naturally in conversation (and the child did not watch the videos) performed any better than chance on the vocabulary post-test. The research thus far indicates that even when parents believe their young children are learning language from the screen, they likely are not. Young children learn best by interacting with their environment and caregivers.
Attentional Abilities
Babies and young children seem to pay attention so well to screens, mesmerized and zonked out. Interacting with parents and working with 3-dimensional toys supports children's natural development of sustained attention. What effect do screens have on this burgeoning ability? Television of today provides rapidly changing screens and can be rather visually overstimulating. The sensory input is much quicker than anything provided in the real world.
Longitudinal research demonstrated a link between television viewing at ages 1 and 3 and attentional problems at age 7. In that particular study, which included a nationally representative sample of 1,278 children, the average one-year-old watched an average of 2.2 hours of television and the average three-year-old watched an average of 3.6 hour of television per week. Each hour of entertainment television viewed was associated with a 10% increase in the risk for attention problems when the child enters school.
An experimental study demonstrated that after viewing just 9 minutes of a fast-paced "entertainment" children's show, children performed worse on a task which required executive control. Executive control is the ability to suppress impulses and maintain sustained attention, among other things. Those children who viewed the "entertainment" showed executive functioning impairment compared to children who viewed an "educational" program and those who completed a drawing task.
Yet another study examined the relationship between different types of programming and attentional capabilities in 500 children longitudinally. The researchers coded programming as violent, educational or nonviolent entertainment. The violent and entertainment programming were both associated with a significant increased risk of attentional problems.
The research demonstrates that during early childhood, especially from birth to age 3, critical brain development is occurring that may make viewing fast-paced media particularly damaging. However, the studies on executive functioning have been conducted with older children as well, suggesting that it is not just younger children who may experience negative attentional consequences from rapid screen shifts. One underlying interpretation here is that children's brains are being preconditioned to expect rapid, changing stimulation.  However, this is not what the world is actually like. The world is a lot slower than the rapid screen shifts that exist in Baby Einstein or Sponge Bob Square Pants.
Where do we go from here?
Parents who are looking to help their young child's budding vocabulary and attention skills can do so best by doing one thing: play with your child in an undistracted environment at least once per day. Babies and toddlers learn language best from an adult who can respond to their unique vocalizations through repetition, expansions of what the child said and praise. In fact, in a research study where families were given wooden blocks, babies language abilities were above average 6 months later (and significantly higher than families who did not receive the blocks). Babies and toddlers learn to focus their attention by having opportunities to pay attention to three-dimensional activities they find interesting (blocks, books and cars). Simply encourage your child's budding attention by playing with them for as long as their natural attention holds. Most importantly, toss the baby DVDs and don't give the marketers any chance to influence your child. They likely have their best interest at heart, not your child's.