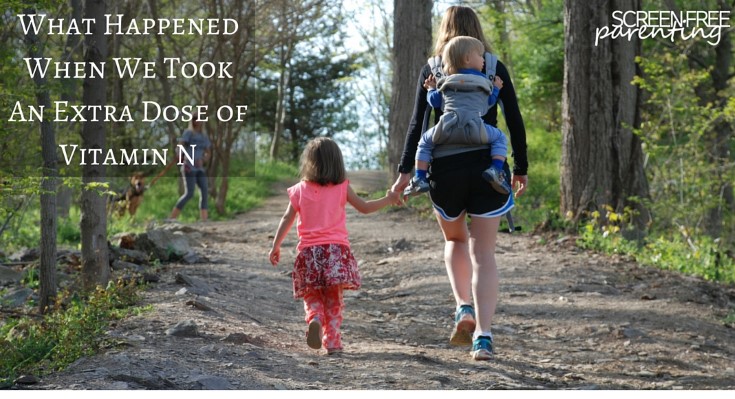 We spend a lot of time outdoors with our kids: usually 2+ hours per day, regardless of the weather.  We go on daily child-led walks, regular trips to the park, pick wild berries, play in the mud, and hit up any outdoor kids' event we can find.  But, lately, I have been feeling a desire to get the kids even closer to nature – off the concrete sidewalks and plastic playground equipment – really immerse them in nature.
Get the kids closer to nature - off the concrete sidewalks and plastic playground equipment.
Click To Tweet
I have been wanting to get more creative and daring with the things we do outside.  Maybe it's Spring? Maybe it's that my youngest is now mobile and capable of some creative nature play?  Whatever it is, I'm excited about it.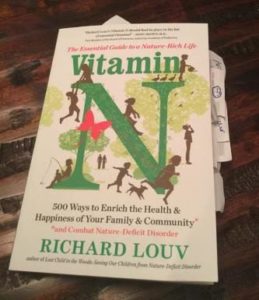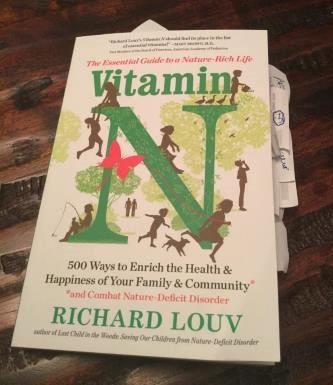 Enter Vitamin N: 500 Ways to Enrich the Health & Happiness of Your Family & Community. Richard Louv's latest book was released at the perfect time for us.  When I purchased it, I dove right in.  This is not a traditional book, rather it is a book of ideas; jumping off points to have more fun in nature. It operates somewhat like a field guide for having fun in nature for the newly initiated and long-time lovers alike.  It definitely helped me move out of my nature rut, as if there is such a thing.
Here is a photo journey of us trying some activities taken directly from the book (and a few of my own).  The book suggests over 500 ideas, so if these seem like fun to you, check it out!    
Sniffer Cups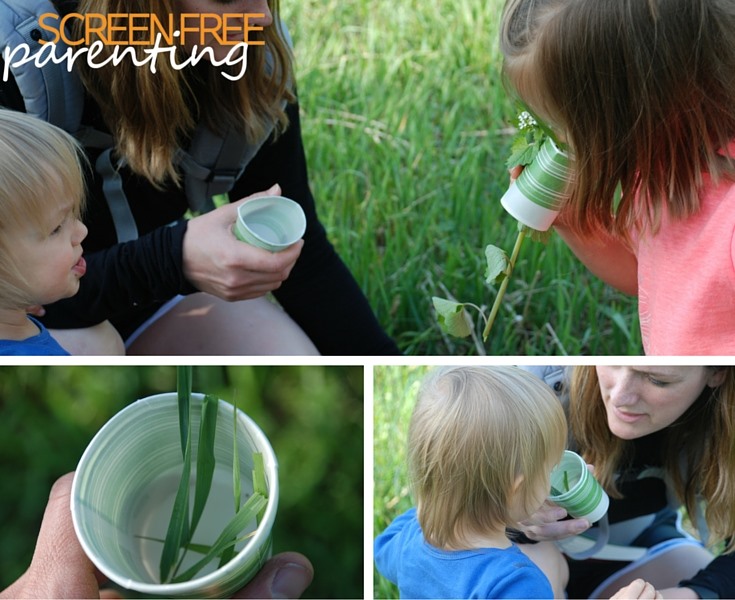 I love this idea.  We brought along small paper cups and when my children found something that interested them, we put it in the "sniffer cup." They could stick their nose in there and really get a good whiff.  They had fun putting different things in their cup and mixing different materials together to create new smells.  Even my husband and I enjoyed smelling fresh grass and dirt.  Very relaxing smells.
Snake/Deer/Owl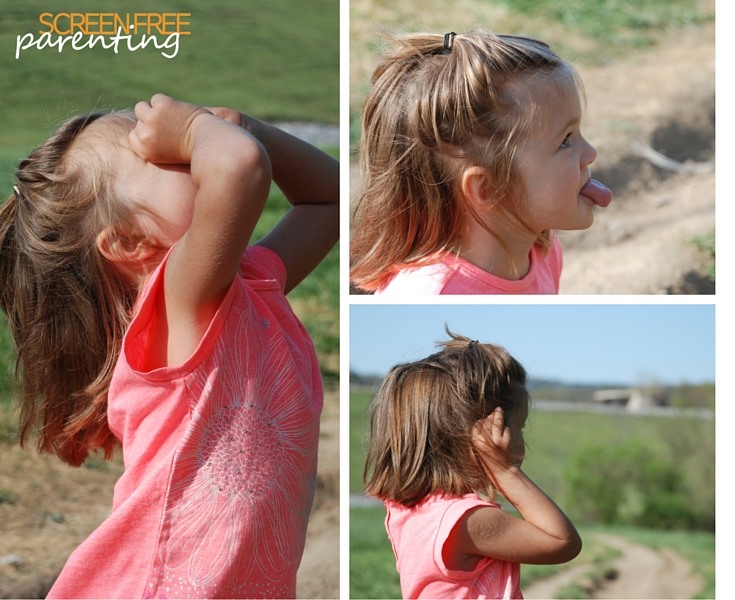 We went on a hike and the perfect opportunity presented itself for us to use this fun game.  My daughter heard something in the woods and wondered what it was and where it was.  I started by asking her, "Can you move your ears to hear it better?" Jokingly, "C'mon just point your ears backwards!" She giggled and we talked about how deer can move their ears to help them hear and locate sounds.  Then we both cupped our hands first in front of our ears and then behind to see the difference.
We then discussed different animal senses and tried them out.  We put our hands around our eyes to make owl eyes.  We stuck our tongue out to feel the temperature and the wind.  For a four-year-old who loves animals and pretend play, she thought this was very fun!
Build a Flower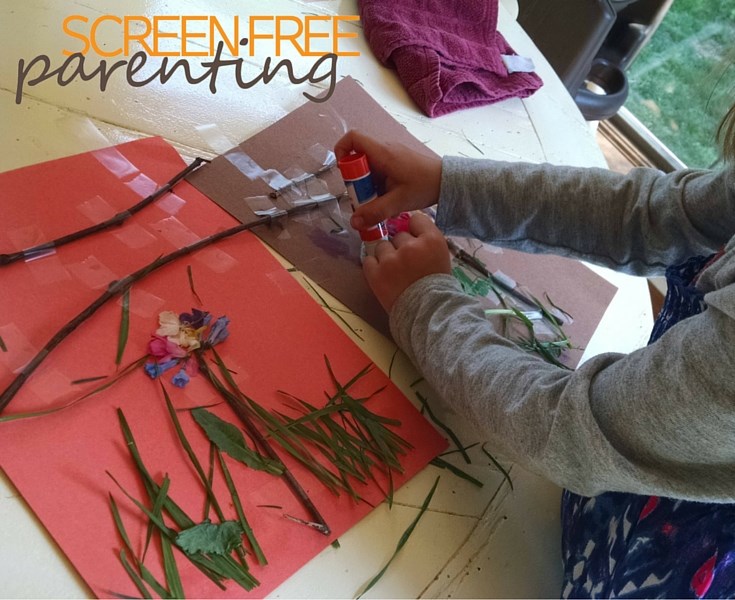 My daughter loves arts and crafts so this was a great project for her. We noticed all the different flowers and leaves on our walk and I encouraged her to collect them so she could build her own super flower.  We usually operate on a look/smell/listen but don't take policy in nature, so she was thrilled to be able to collect some flower parts.  Here is what she was able to make it with them: her own super flower!
Roll Down a Hill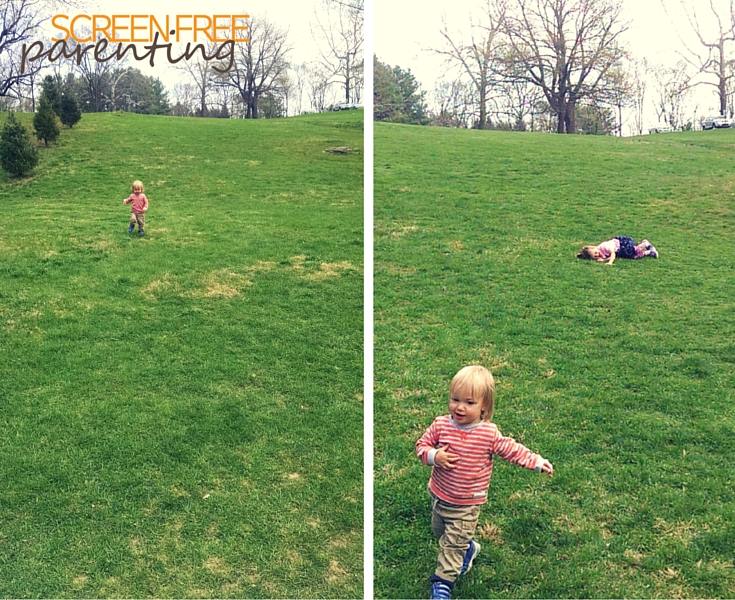 This is not a new idea; it's an oldie but goodie.  I had suggested rolling down a hill to my four-year-old before, but I had never modeled it.  I did today and I cannot figure out why I waited to so long. The spark in my one-year-old's eyes when he watched me roll down the first time seemed to say, "Oh, we are going to have FUN today!"  We easily passed an hour.  My son giggled while running down the hill and holding my hand.  My daughter and I both giggled while rolling and then trying to get up and walk a straight line. We had a great time and I felt more connected to both of my kids afterwards.
Contact Paper Bracelet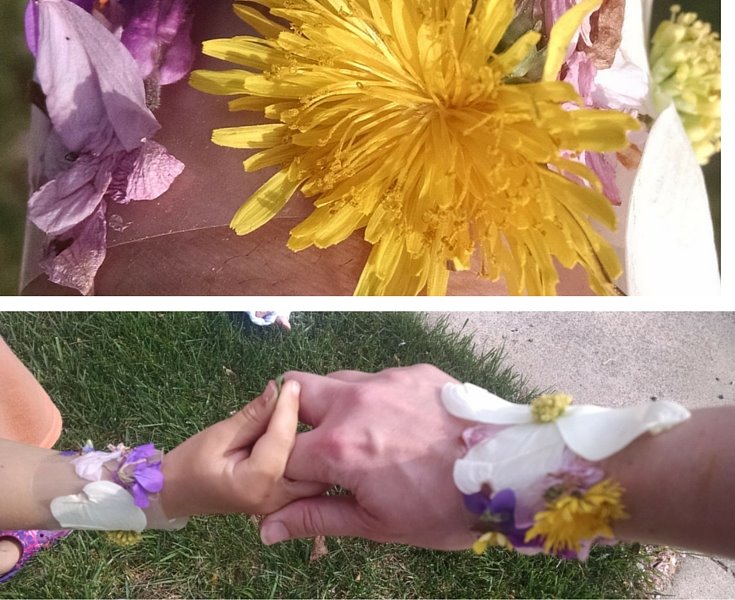 While we don't typically pull leaves or flowers off of plants, anything on the ground is fair game. This means that we have a fair amount of collected leaves, sticks, and petals all around our house and hoarded in bags.  The book suggests making a bracelet by putting duct tape around a child's wrist inside-out so they can collect their items and immediately make jewelry out of it.  I don't love the idea of duct tape and how super sticky it is. So, we used clear contact paper to make an inside out bracelet and headed out on our walk.  This was such a fun activity!  I am now keeping strips of contact paper in my bag for this very purpose.
Ladybug Playground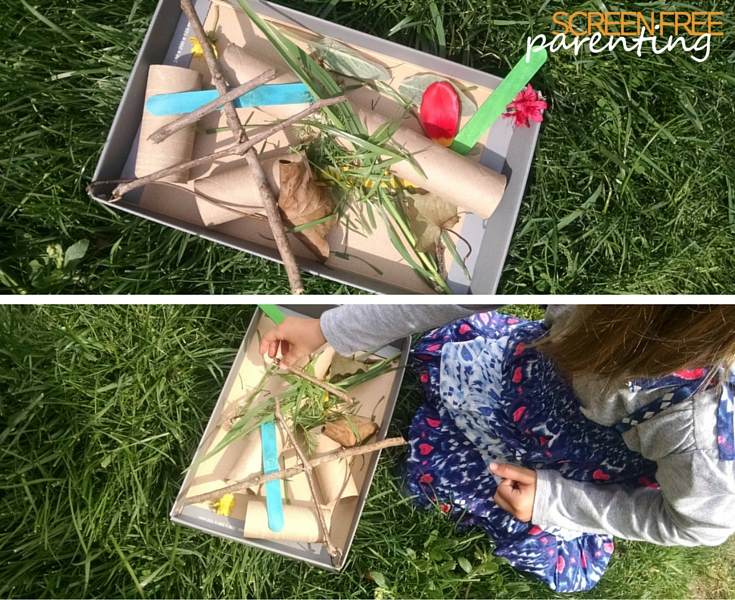 As a creature lover, this activity was a huge hit with my daughter!  The book suggests creating a playground for a slug by adding sticks, paper, and toilet paper rolls to a small box.  However, after we created our "playground," there were no slugs in sight. The bug we found quickest was a ladybug.  So, we let our ladybug explore the playground.  This was filled with giggles and excitement as the ladybug checked out her slide and tunnel.
Mud Pies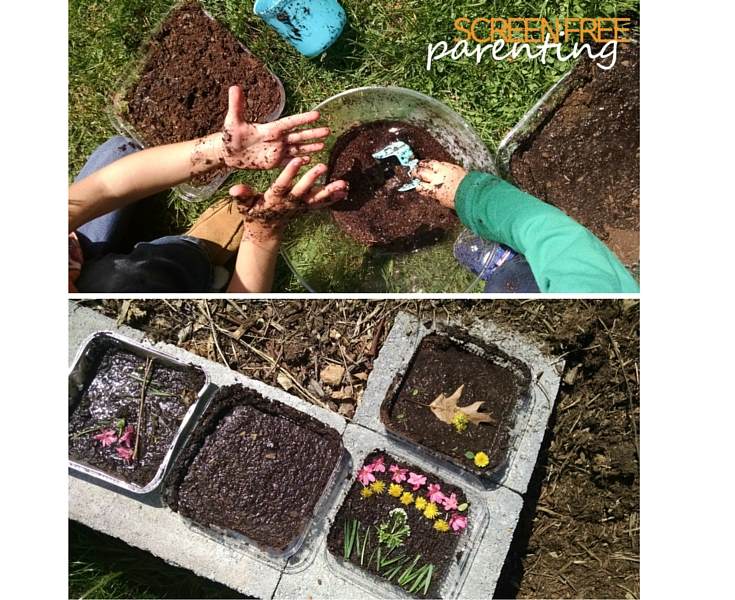 Another oldie but goodie, yet one we had not yet tried.  I grabbed some pie pans and let them mix dirt and water into pies.  I let them figure out the dirt to water ratios and it ended up being a bit of an experiment when we set them in the sun to "bake."  "This one didn't bake yet, but this one did, I wonder why?"  (She could figure out right away that she put too much water in some).  She had a blast decorating the cakes with stones, leaves, and petals.  We will come back to this activity often, now that it's in our outdoor rotation.
Stuffed Animal Hide-and-Seek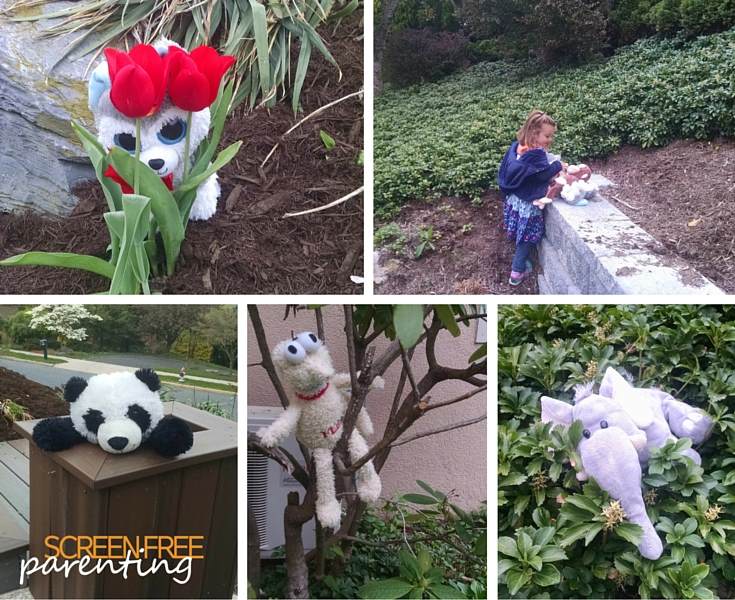 This was a blast for both my kids and lasted several hours.  While they were otherwise occupied, I quickly hid ten of their stuffed animals in the yard.  I then told them both that their stuffed animals were "bored" in the house and seemed to have sneaked out to the yard to have some fun. They both had a blast looking for them.  Once they were all located, my daughter immediately wanted to play again so we took turns hiding them in different places all afternoon.
So, what happened when we took an extra dose of Vitamin N for a week?
We had a blast, I reconnected with my childhood self, and we really immersed ourselves in nature.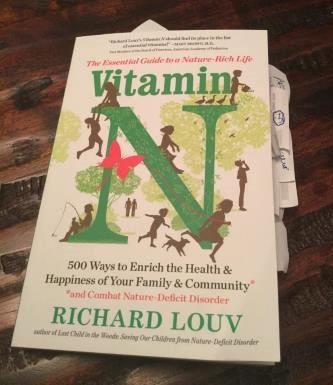 As you can see, some of the ideas are traditional (mud pies, roll down a hill) and some are more creative.  The sheer volume of ideas ensures there is something for everyone and the organization of the book ensures you'll find it easily.  I plan to come back to this again and again. My favorite section of the book might have been the outdoor games from around the world.  I had not heard of most of them and they all sounded like a blast.  My children are a little young for many of them but I cannot wait to come back to this book as they get older.  I have many of my favorites all tabbed and ready to go.
So, if this extra dose of Vitamin N sounds like fun to you, I highly recommend this book.  Richard Louv has also written several other influential more traditional books including The Nature Principle: Reconnecting with Life in a Virtual Age and Last Child in the Woods: Saving Our Children from Nature-Deficit Disorder.  If you need motivation for why we should all get outside more with our kids, I recommend you check those two out.
I would love to hear any new nature activities you are trying out this Spring! Let me know in the comments section!
Join The Revolution
Sign up to have great articles like this one sent right to you in our Screen-Free Parenting weekly recap email.
*This post contains Amazon Affiliate links for your convenience. If you choose to make a purchase, Amazon pays Screen-Free Parenting a small referral fee at no additional charge to you.