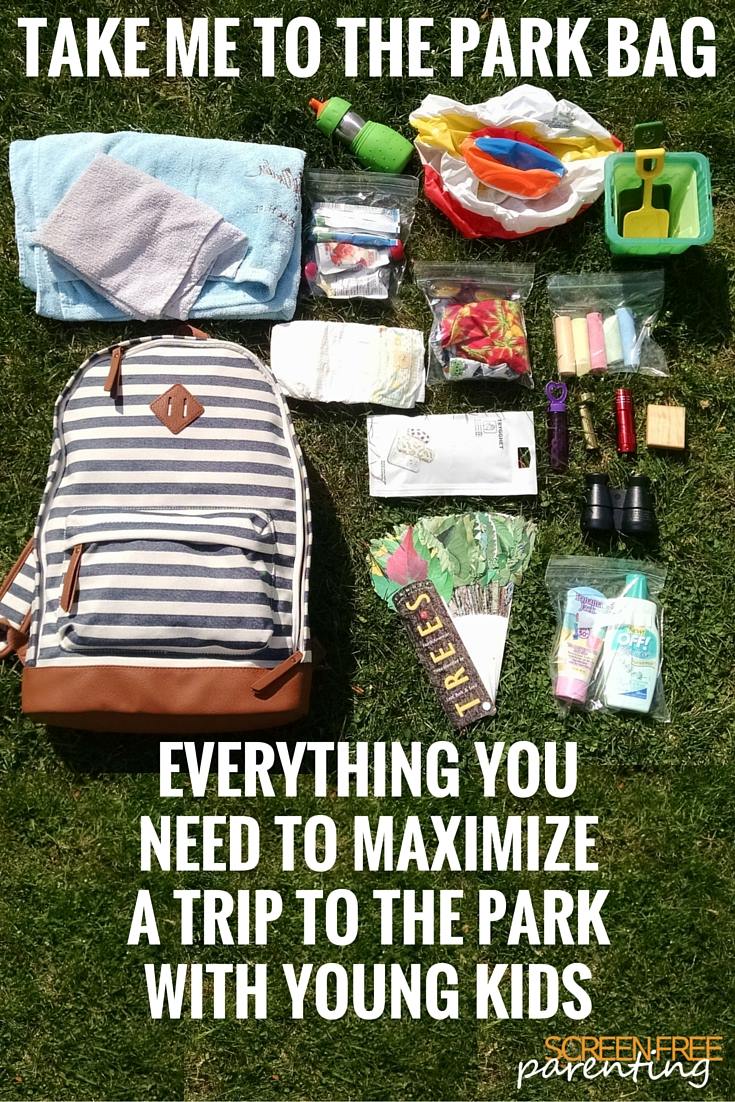 Full disclosure: We walk to the park every day.  We are fortunate to have a park about ½ mile from our house.  What do I bring when we go there? Nothing. Zero. Zip.  In fact, I usually only have my house keys and I ask my daughter to put them in her baby stroller/suitcase/bike pouch or whatever it is that she is lugging to the park that day.  Walking with nothing strapped to you is a luxury for moms and I take advantage of it every afternoon.  Thirsty? There's a water fountain.  Diaper change? We can walk back.  I walk unencumbered to our neighborhood park.
We also have two rules: (1) you are responsible for carrying back anything you lug to the park.  My daughter has quickly learned that less is more with our daily park trips after just one or two trips home with her screaming "I'm too tired" while she drags half her play room home with her.  (2) You have legs, use them.  Of course little legs get tired and I offer a few set breaks for our youngest. But, the purpose of going to the park is to let my kids get exercise! The walk there and back is part of that. Therefore, there are no wagon rides or strollers.  I don't want to come home more tired than my kids.
However, we also like to visit different parks in different neighborhoods, go on regular hikes, and visit the many natural parklands our area has to offer.  On those days, I do bring a backpack with all the goodies a truly memorable trip necessitates. We have a nice spacious house.  But, it's like a funnel – the big parts of the funnel are the kitchen, playroom, living room.  As you move towards the back hall, it gets tight and the mud room feels unbelievably tight (it's actually not). Every time we are in there, one child is ready and banging on the back door for their daily yard time like a prisoner. The other child is fighting with shoes while a dog jumps all over them.  I am tripping over both of them grabbing things last minute.  I do not like this part of my day.  So, I keep the stuff we need ready and packed.  See my waiting place bag for an example.
Today, I am showing you my "Take Me to the Park Bag." I keep the bag by the back door and then when the mood strikes us,  we just grab the bag and head out.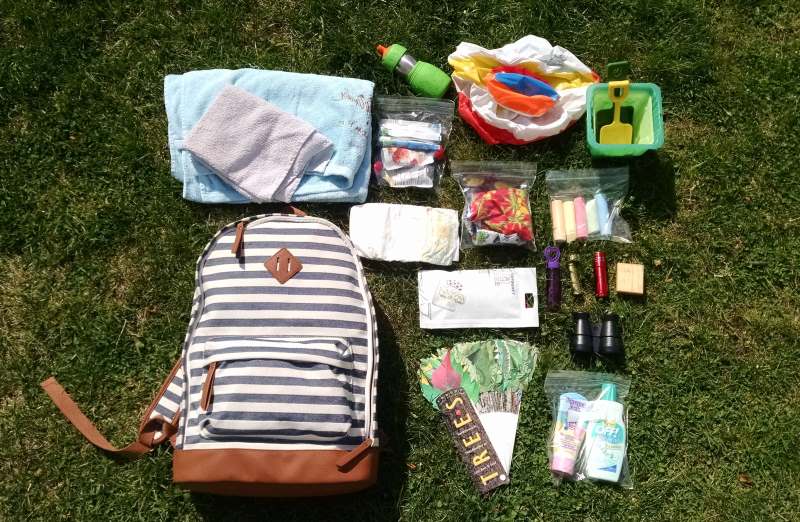 Here are the 15 items I keep in my "Take Me to the Park Bag":
Sunscreen and bug spray
Snacks and an empty water container
A small and full-size towel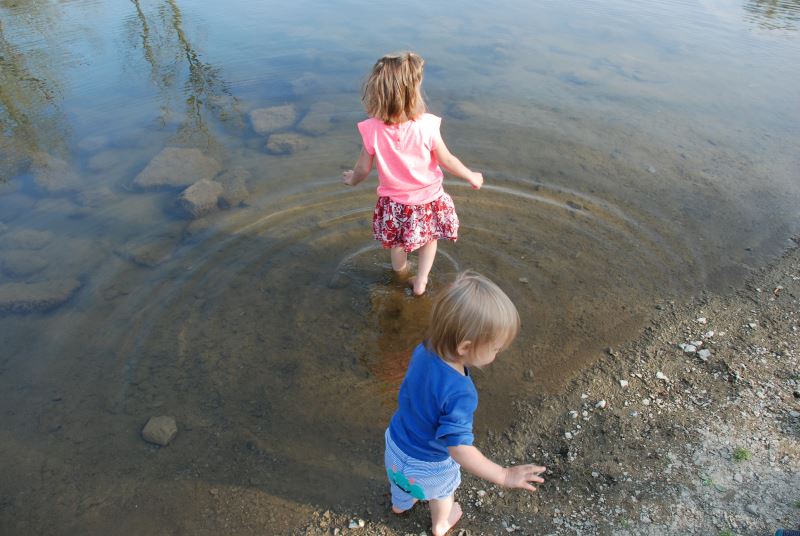 They go in any body of water we find, so I use the towel for that.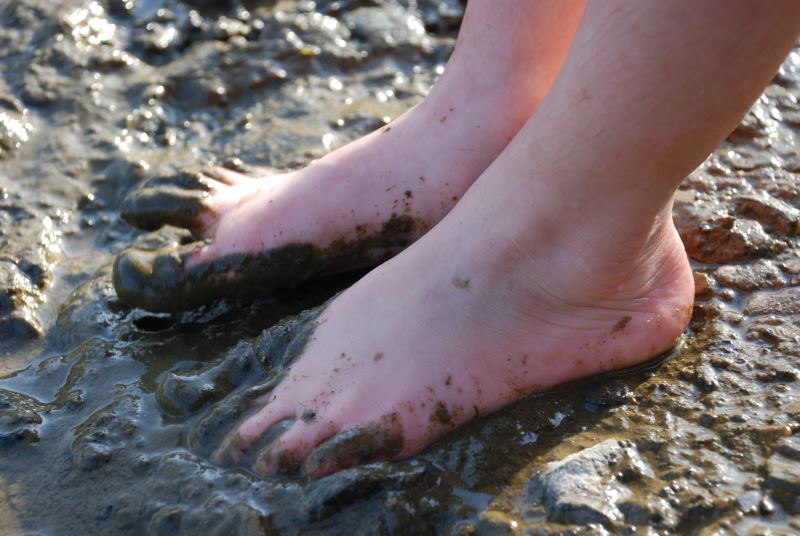 These kids like the dirt.
We also often end up at parks shortly after rains and use the towel to dry slides.
A diaper
Mini first-aid: bandages, anti-itch cream, and antibiotic ointment
Hats and Sunglasses
An empty bag for collecting treasures
Buckets and shovels for sand and mud digging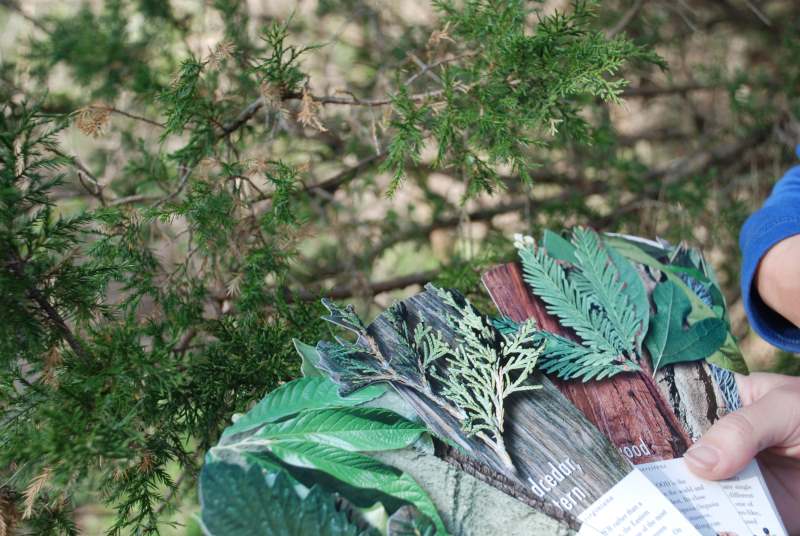 This thing is awesome and super kid friendly. The kids (and I) love matching the leaves we find to this guide and learning about trees along the way. They have bug, flower, and bird versions too.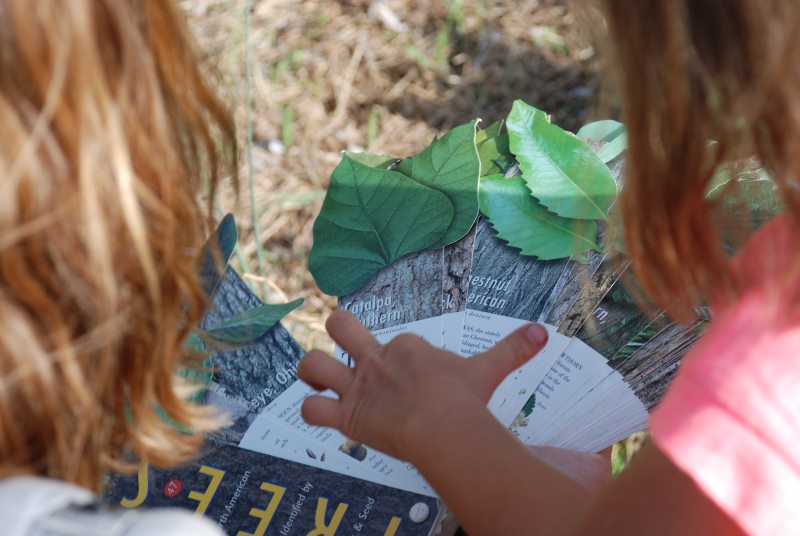 A miniature kaleidoscope – This makes staring at the clouds even more fun.
A miniature flashlight -This is great for examining dark places like under rocks or when we go out at night.
The backpack I use can be found at Target. I like the interior pockets and the fact that it zips all the way open. Yes, I have a thing for horizontal stripes.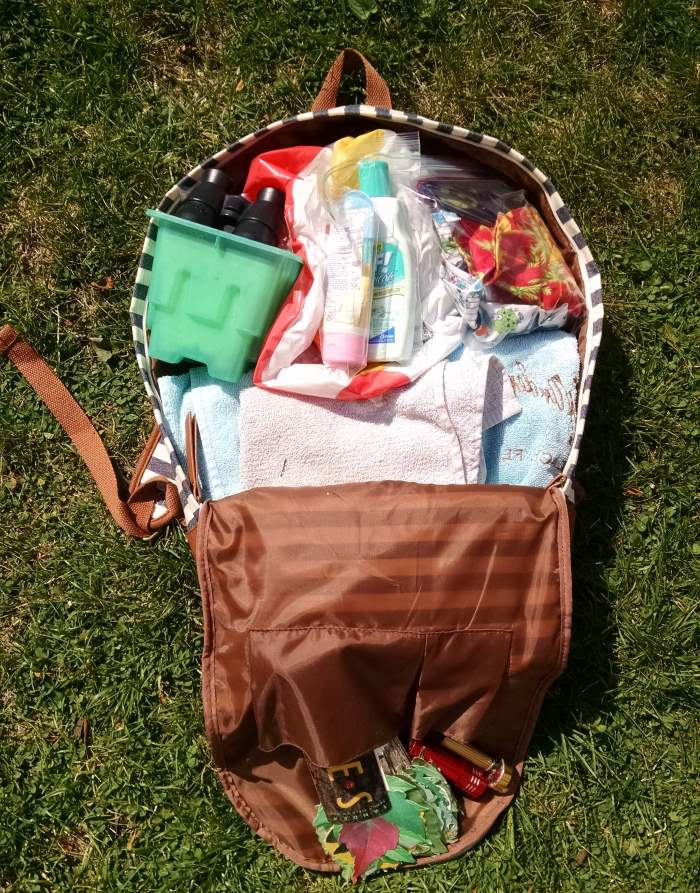 What am I missing? What do you bring to ensure a great day hiking or playing at a park?
Join The Revolution
Sign up to have great articles like this one sent right to you in our Screen-Free Parenting weekly recap email.
*This post contains affiliate links for your convenience. Should you choose to purchase something mentioned here, we are paid a small referral fee at no additional cost to you.