First of all, every reasonably credible study on how much screen time kids have is outdated.  They are actually outdated before the study is even published, because children without imposed screen time limits are using MORE and MORE every day.  And why do you think that is?  Ever wonder why you can't stop binge watching Orange Is the New Black or House of Cards? It's because they have developed a formula to capture your attention and deliver dopamine hits to your brain to keep you wanting more.  Now, if they could dupe a fully developed adult into wasting all their free time, don't you think they could do the same even more effectively to our doe-eyed naive children.  Like taking candy from a baby.
Screen-freers, note that keeping your kids hooked on screens is a huge industry.  That is why there are so many children's programs and applications.  It is a consumer cycle (watch Doc McStuffins, buy all her associated toys, watch more Doc McStuffins).  It is a very lucrative consumer cycle.  A lot of people are making a lot of money off of your kids. The really troubling part is that they are making this money off an activity that is incredibly bad for young children.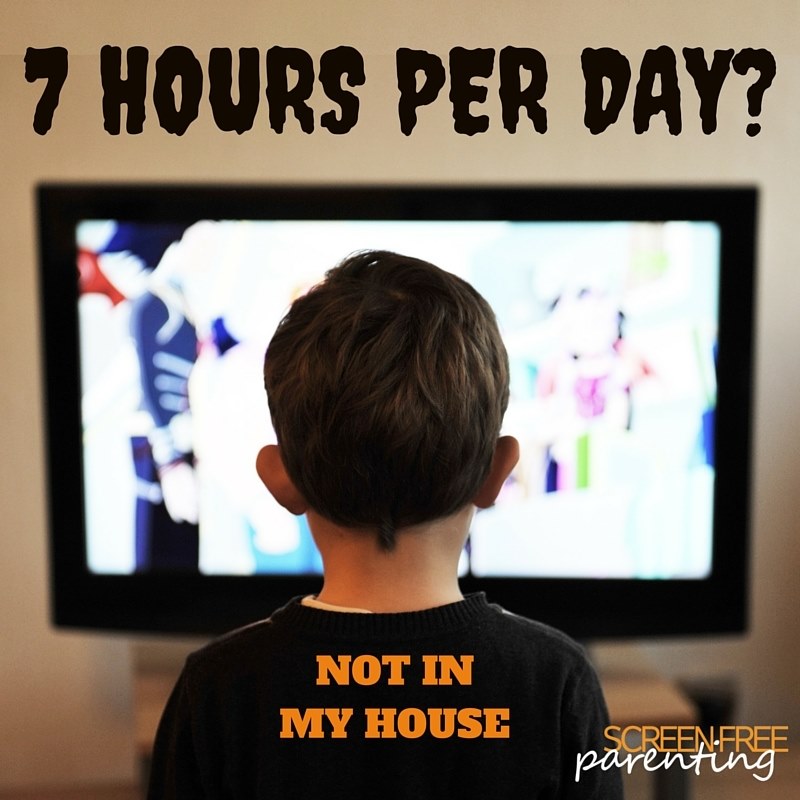 The most commonly cited stat in popular media regarding typical kid screen time is seven hours: yes, you heard that right, modern children use screens SEVEN hours per day.  There is some more nuanced information below, but I think even the biggest screen-lover can see a problem with a seven hour daily screen dose.  I am feeling the pull to list all the better things kids could do with their time, but I'll just say get outside and leave it at that.  We have a whole section on this website dedicated to all the things kids can do that are better than watch a screen.
Even though the information provided here was outdated the day we released this post, we are going to go ahead and give you some research statistics here anyways:

The National Institute of Health's Medline Plus reports that the average kid spends 3 hours per day watching television and 5-7 hours total on screens.  (Personally, I have a goal to have my kid spend 3 hours per day outside.  Check out my daily recommended activities that are optimized for child development.)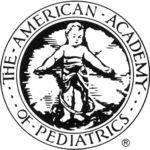 The American Academy of Pediatrics also uses the 7 hours per day average.  Note that this is seven hours spent on entertainment, not required school work. Screen-lovers often lament that their kids need screens for schoolwork, but these stats are above and beyond that. Click here to learn more about the AAP's research.
A 2006 study taking place in the United States demonstrated that 58% of children under 3 watch TV everyday and 30% have a TV in their bedrooms.  Note that 2006 is the pre-ipad era, so basically the early days of the great screen expansion. (1)
The average daily screen time also varies greatly by culture and country.  One research study from way back in 2007 indicated that there are some differences across countries with children aged 3-6 spending 1.5 hours per day watching television in Germany and Sweden and children in Hungary, Turkey, and the United States spending 3 hours per day watching television. (2)
Regarding using applications and games, another study from forever ago (2007) indicated that 38% of 5-7 year olds used electronic games every day.  We bet that number is way higher now. (3)
The typical child is watching about 4.5 hours of television before age 5, which is about 40% of their wakeful time.  (4)
Evidence that screen time habits in children are changing rapidly is provided by the following statistic.  The average age a child first watched a television in the 1970's was 4 years; in 2012, it was 4 months. (4)

Okay, the whole point of this article is to say that the actual amount of time the average kid spends on a screen is simply too MUCH.  We hope you got.  Also, screen time leads to more screen time. Now they know it's out there and their brains felt the little dopamine rush and they want MORE MORE MORE.  Screen habits are another reason we just don't do it all.
Rideout, V. J., & Hamel, E. (2006). The media family: Electronic media in the lives of infants, toddlers, preschoolers, and their parents. Menlo Park, CA: The Henry J. Kaiser Family Foundation.
Scheibe, C. (2007). Advertising on children's programs. In J. J. Arnett (Ed.), Encyclopedia of children, adolescents, and the media (pp. 59-60). Thousand Oaks, CA: Sage.
Foehr, U. (2007). Computer use, age differences in. In J. J. Arnett (Ed.), Encyclopedia of children, adolescents, and the media, Vol. 1 (pp. 202-204). Thousand Oaks, CA: Sage.
TedX Talks (2011, December 27). TedXRainer – Dimitri Christakis – Media and Children. Retrieved from https://www.youtube.com/watch?v=BoT7qH_uVNo