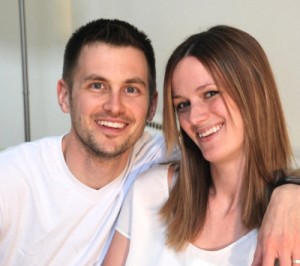 Screen-Free Parenting was created by a husband-wife team who believe screen-free parenting is pretty awesome, surprisingly under-represented and grossly undervalued in today's society.  They knew there were others out there and they wanted to formalize the Screen-Free movement and convert and connect with other screen-free parents.  The duo has two littles: M, a four-year-old little girl and S, a one-year-old little boy.
Dr. Screen Free Mom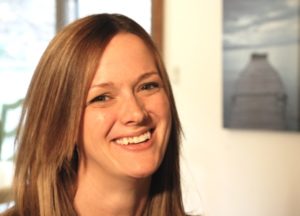 Screen Free Mom, Ph.D., is a psychologist who is currently a part-time Psychology professor and primarily a stay-at-home mom to the screen-free kinder.  She earned her Bachelor of Arts Degree from Albright College in Psychology and Spanish.  When they were younger, she and Screen Free Dad road-tripped to  California so she could earn her Master of Arts Degree from Pepperdine University in Clinical Psychology with an Emphasis in Marriage and Family Therapy.  Another cross-country road trip brought them to sunny Miami, Florida, where she earned her Doctorate degree from the University of Miami in Counseling Psychology.  She has been teaching university students for the past five years, including courses in Infant and Child Development, Personality Disorders, Theories of Psychotherapy, Lifespan Development, and Introduction to Marriage and Family.  She has served as a therapist in university counseling centers, a residential eating disorder center and community mental health centers.
Dr. Screen-Free Mom's psychology background gave her the education and research she needed to decide from day one that raising her kids screen-free was the only way to go.  She loves psychology and working with people to improve their lives.  When she is not teaching or chasing energetic littles, she is a ferocious reader, runner, yogi, amateur home renovator, and organizer extraordinaire. She loves coming up with new and interesting ways to keep her kids (and herself) entertained. Screen Free Mom's activities for the kids tend to be focused on encouraging their current developmental stage and overall psychological health.  Her love for physical activity and outdoors often show up in how she parents and the things she does with her kids.
Screen-Free Dad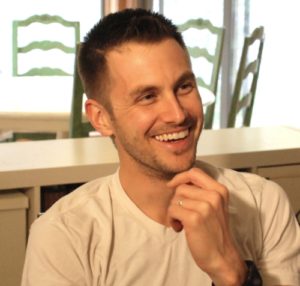 Screen Free Dad is the head of marketing and communications for a university and an adjunct business professor at two universities.  Screen-Free Mom brought the education on the subject and was the original instigator of the family's Screen-Free Parenting philosophy, but Screen-Free Dad brought the technical and promotional skills needed to make it a movement.  He earned his Bachelor of Science degree from Albright College in Marketing and his MBA from Kutztown University.  He is a creative marketer and team leader who has worked for four prestigious Universities over the past ten years.  He is constantly in motion, loves building things, DIY projects and playing with his kids.   He is admittedly easily distracted by screens (and shiny objects).  Growing up, his third parent was a 19" Magnavox with a cable connection.  His personal weakness for the warm glow of a screen makes him even more concerned about the potential downsides of what has become the greatest un-controlled social experiment of our time.  He revels in witnessing his children's sense of wonder when they see amazing everyday things for the first time with their very eyes.
"Without the scientifically engineered attention grabbing perfection that is today's modern screen, I am amazed at the amount of wonder and genuine curiosity our children have for the simple yet amazing things happening right in front of them.  The lack of sensory overload and instant entertainment gratification primes their mind for learning and fosters a hunger for curious exploration of our world."
In Conclusion
We believe our kids are happier, more interesting, and unique because we don't show them screens. We like the challenge of not showing them any screens, and curating exciting real-life content every day. And, hey, other smart people agree with us! 
Join The Revolution
Sign up to have great articles like this one sent right to you in our Screen-Free Parenting weekly recap email.