I have no parenting goal of keeping my kids up to date with the things that other kids are doing. I also see lots of child-rearing fads that I have very little interest in. Excessive screen use is just one, along with the culture of busyness, over-consumption and the obsession with preparation (for grade school or college?).
However, one of the common questions we screen-free-ers often get is some version of:
How will they have anything to talk to their friends about?
Won't they feel left out when other kids are all talking about/playing a particular movie or television show theme?
Isn't your kid going to be "weird"?
For the purpose of this particular article, I won't address how incredibly sad and uninventive it is that children are "playing" movie scripts. I also won't address this cultural obsession with "fitting in" and whether that is a message one really wants to send to one's children.
I will address how our children keep up just fine with screen-loving Joneses.
About the Movies, Characters, Etc.
My kids are currently five-years-old and two-years-old. They are mostly screen-free. The majority of their peers and friends are not screen-free. However, this has never presented a problem for us or them. How do they keep up with the screen-loving Joneses? A couple of easy ways:
1.     Books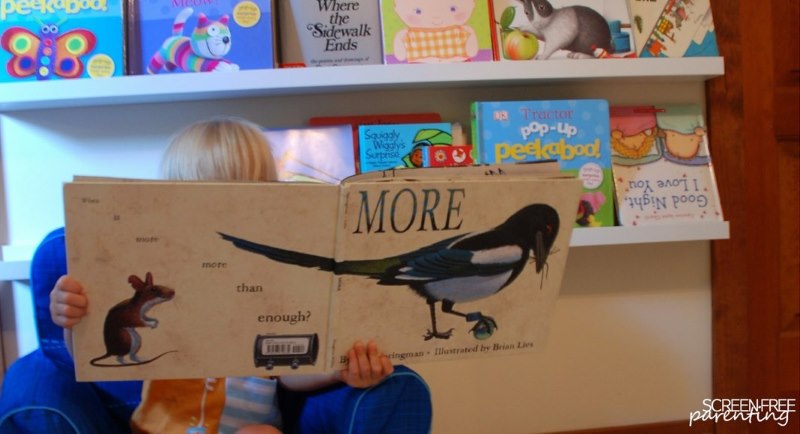 My children's peers often do "play" particular movie themes. However, my kids keep up just fine. We have turned an attic storage space in our house into a "library," filled with crafts, puzzle and more books than one family should have. I purchase just about all books I find at yard sales (in large boxes) and attend used book sales a couple times per year where my children can fill a bag with 50+ books for a few dollars. Consumeristic? Yes, but given the research (1) that correlates the number of books in one's home to a child's intelligence, I'm fine with this purchasing habit. (Read more research on educational attainment and books in our Reading Nook Article)
For the most part, I do not restrict their access to reading material (with exceptions for violence). Therefore, virtually everything someone else's child has viewed on a screen, my child has read in a book. While I don't restrict their access to reading material, I do moderate what we read in those books. With my analytical five-year-old, we read material as it's written but then critique it. With my innocent two-year-old, we change the material in books that present values with which we don't agree. I'm looking at you, Disney. The dwarves allow Snow White to stay because she's a nice person and they are nice people who help others out in need (not because Snow White is pretty or cleaned their house). In Peter Pan, Wendy's value is not based on her ability to care for others, and Tinker Bell isn't caught in a jealous love triangle with her. I could go on forever. Point being, they know who the Disney characters are.
2.     Lack of Consistent Character/Movie Themes among Children
This fear that children will be left out because they don't watch a particular show or play a particular game is an outdated fear. Streaming services and individual YouTube channels abound, meaning that it is now more common for children to be isolated in their viewing habits and preferences. Disney continues to be an exception but we handle that with our rewritten Disney books (see above).
3.     An Incredibly Active Imagination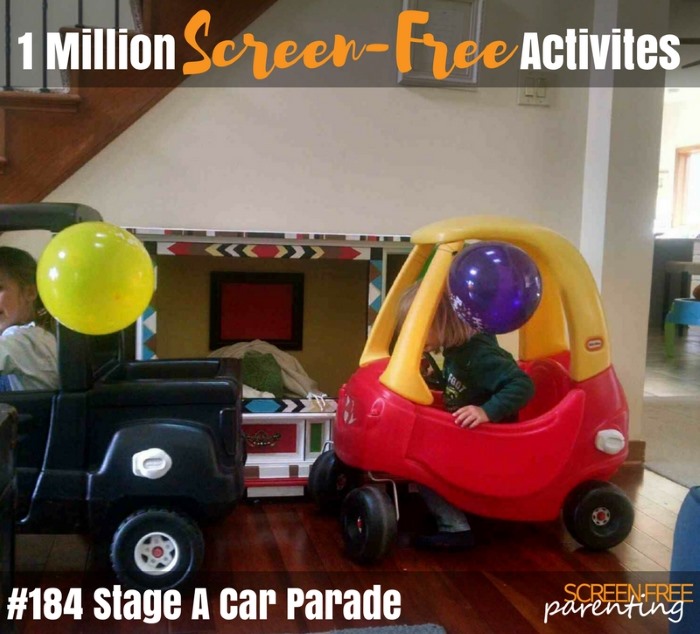 My children spend hours every day in elaborate make-believe play. As I teach my college students, elaborate fantasy play is the bread-and-butter of developing executive functioning in children (the ability to focus, plan, problem-solve and inhibit impulses). Therefore, my children can easily get off and running with any game with a quick summary sentence of what the kid wants to play. And, they can probably take it in a new and interesting direction (since they are not constricted by replaying what happened on the screen).
4.     Honesty
There have been a few times where other children have directly asked the question, "What do you watch on TV?" It's a sad conversation starter for a four-year-old but it has happened. I have modeled honesty for my kids. Something along the lines of, "We don't watch much Television because we prefer to play outside and read books. What do you want to play?" I recently overhead my five-year-old give a similar response on her own. And, as she ages and we offer her more options with regard to screen-time and she continues to select her favorite activities instead, this opinion is increasingly becoming her own.
But, it's not about the Movies, Characters, Etc.
The reality is that children's social competence and popularity has very little do with what they do on a screen. Research shows consistently that there are two types of popular children: those who are prosocial and those who aggressive. As parents and caregivers, we mostly prefer our children fall into the prosocial category. What do these kids do? They are kind and friendly. They cooperate with others their age to solve problems. Screens have nothing to do with those characteristics. Some research suggests that books may though: children who read more are more socially skilled and capable problem-solvers. The theory is that reading encourages them to think about characters' motivations and different methods of solving problems.
Don't Worry about the Joneses
The real take-home is don't worry about the Joneses. Help your children develop an active imagination and the social skills necessary to have lasting, satisfying relationships. No one will care whether they watch a particular television show when they are kind, socially-skilled and fun.
Join The Revolution
Sign up to have great articles like this one sent right to you in our Screen-Free Parenting weekly recap email.
Scholarly references not publically available on the web:
Evans, M.D.R., Kelley, J.,  Sikora, J. and Treiman, D. J.. (2010). Family Scholarly Culture and Educational Success: Evidence From 27 Nations. Research in Social Stratification and Mobility,28(2):171-197.