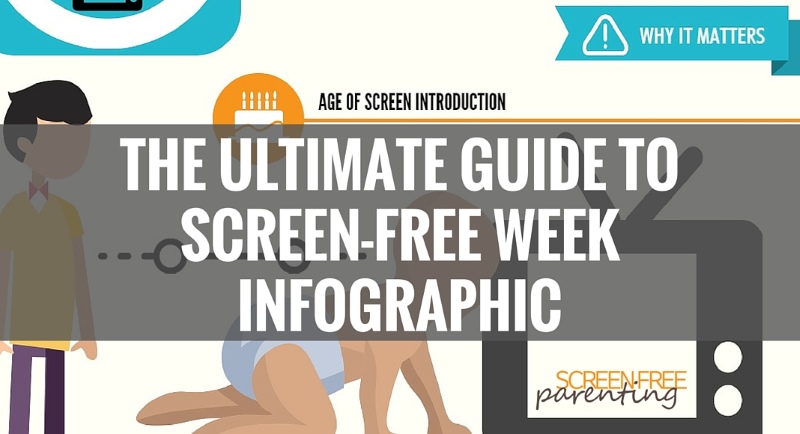 Screen-Free Week is May 1st – May 7th.  We want all of you to participate! To help motivate you, we created an infographic that compiles information from over 25 research studies. It provides an overview of Screen-Free Week: highlighting it's importance, tips for how to implement it, and great ideas for things to do instead of utilizing technology.
The Ultimate Guide to Screen-Free Week infographic contains the following sections:
What is Screen-Free Week?
This section outlines the history of Screen-Free Week and gives an overview of its purpose.
Why is it important?
This section provides statistics on average screen time use in children and outlines some of the research on the effects of excessive screen-time on children.
Does it work? Screen breaks DO work!
This section highlights some interesting research on the positive effects of screen breaks or fasts.
How can I do it?
This section offers great tips and tricks for implementing a successful Screen-Free Week. We include 5 alternative categories of activities that have been shown to have a positive impact on children's mental and physical health.  The 5 essential daily activities we live by are: Social, Play (free-play), Outdoor, Independent, and Literacy or S.P.O.I.L..  Read all about The S.P.O.I.L System and explore our Screen-Free Activities page to see a complete list of ever-growing activities.
Make it last!
We suggest ways to debrief following screen-free week and make the positive effects last.
Finally, feel free to post it and use it in any setting, but please link back to our site. A complete list of research sources for the screen-free week infographic content is available below.

What do you plan to use the infographic for? Let us know in the comments section!  Even better, take a picture of the infographic in action and tag us in a Facebook post!
Join The Revolution
Sign up to have great articles like this one sent right to you in our Screen-Free Parenting weekly recap email.
References
Use Statistics
TedX Talks (2011, December 27). TedXRainer – Dimitri Christakis – Media and Children.Retrieved from https://www.youtube.com/watch?v=BoT7qH_uVNo
Common Sense Media (n.d.). The Common Sense Census: Media use by teens and tweens. Retrieved from https://www.commonsensemedia.org/research/the-common-sense-census-media-use-by-tweens-and-teens
Internet-Effects
Carr, N. (2011). The Shallows: What the internet is doing to our brains. New York, NY: W.W. Norton & Company.
Advertisements
American Psychological Association. (2004). Report of the APA Task Force on Advertising and Children. Retrieved from http://www.apa.org/pubs/info/reports/advertising-children.aspx
Attention Span
Lillard, A. S., & Peterson, J. (2011). The immediate impact of different types of television on young children's executive function. Pediatrics, 128(4), 644-649. doi:10.1542/peds.2010-1919
Zimmerman, F. J., & Christakis, D. A. (2007). Associations between content types of early media exposure and subsequent attentional problems.Pediatrics, 120(5), 986-992. doi:10.1542/peds.2006-3322
Language
Zimmerman, F. J., Christakis, D. A., & Meltzoff, A. N. (2007). Associations between media viewing and language development in children under age 2 years. The Journal Of Pediatrics, 151(4), 364-368. doi:10.1016/j.jpeds.2007.04.071
Violence
Bushman, B. J., Chandler, J., & Huesmann, L. R. (2010). Do violent media numb our consciences?. In W. Koops, D. Brugman, T. J. Ferguson, A. F. Sanders, W. Koops, D. Brugman, … A. F. Sanders (Eds.) , The development and structure of conscience (pp. 237-251). New York, NY, US: Psychology Press.
Haninger, K., & Thompson, K. M. (2004). Content and Ratings of Teen-Rated Video Games. JAMA: Journal Of The American Medical Association, 291(7), 856-865. doi:10.1001/jama.291.7.856
Arnett, J. J. (2012). Human Development: A Cultural Approach. Upper Saddle River, NJ: Pearson Education Incorporated.
Williams, T. M. & Siegel, A. E. (1986). The Impact of Television: A Natural Experiment in Three Communities.  Cambridge, MA: Academic Press.
Sleep
Hysing, M., Pallesen, S., Stormark, K. M., Jakobsen, R., Lundervold, A. J., & Sivertsen, B. (2015). Sleep and use of electronic devices in adolescence: Results form a large population-based study.  BMJ Open, 5 (1). doi:10.1136/bmjopen-2014-006748
Thompson, D. A., & Christakis, D. (2005). Among children less than 3 years of age the association between television viewing and irregular sleep schedules. Pediatrics, 116, 851-856.
Hale, L., & Guan, S. (2015). Screen time and sleep among school-aged children and adolescents: A systematic literature review. Sleep Medicine Reviews, 2150-58. doi:10.1016/j.smrv.2014.07.007
Obesity
Jackson, D. M., Djafarian, K., Stewart, J., & Speakman, J. R. (2009). Increased teleivison viewing is associated with elevated body fatness but not with lower total energy expenditure in children. American Journal of Clinical Nutrition, 89, 1031-1036.
Danner, F. W. (2008). A national longitudinal study of the association between hours of TV viewing and the trajectory of BMI growth among US children. Journal Of Pediatric Psychology, 33(10), 1100-1107. doi:10.1093/jpepsy/jsn034
Screen Breaks Work
Uhls, Y. T., Michikyan, M., Morris, J., Garcia, D., Small, G. W., Zgourou, E., & Greenfield, P. M. (2014). Five days at outdoor education camp without screens improves preteen skills with nonverbal emotion cues. Computers In Human Behavior, 39387-392. doi:10.1016/j.chb.2014.05.036
Ferraro, F. I. (2015). Enhancement of convergent creativity following a multiday wilderness experience. Ecopsychology, 7(1), 7-11. doi:10.1089/eco.2014.0043
Payne, K. J., & Ross, L. M. (2010). Simplicity Parenting: Using the extraordinary power of less to raise calmer, happier, and more secure kids.  New York, NY: Ballantine Books.
Dunckley, V. L. (2015). Reset Your Child's Brain: A four-week plan to end meltdowns, raise grades, and boost social skills by reversing the effects of electronic screen-time. San Francisco, CA: New World Library.
Benefits of Being Outside
Wells, N. M. (2000). At home with nature: Effects of 'greenness' on children's cognitive functioning. Environment And Behavior, 32(6), 775-795. doi:10.1177/00139160021972793
Berman, M. G., Jonides, J., & Kaplan, S. (2008). The cognitive benefits of interacting with nature. Psychological Science, 19(12), 1207-1212. doi:10.1111/j.1467-9280.2008.02225.x
Kuo, F. E., & Taylor, A. F. (2004). A Potential Natural Treatment for Attention-Deficit/Hyperactivity Disorder: Evidence From a National Study.American Journal Of Public Health, 94(9), 1580-1586. doi:10.2105/AJPH.94.9.1580
Townsend, M., & Weerasuriya, R. (2010). Beyond blue to green: The benefits of contact with nature for mental health and well-being. Melbourne, Australia. This report is available online at: http://www.beyondblue.org.au/index.aspx?link_id=59.1284
Free Play
Nicolopoulou, A., dé Sa, A. B., Ilgaz, H., & Brockmeyer, C. (2010). Using the transformative power of play to educate hearts and minds: From Vygotsky to Vivian Paley and beyond. Mind, Culture, And Activity,17(1), 42-58. doi:10.1080/10749030903312512
Literacy
Evans, M.D.R., J. Kelley, & J. Sikora (2014). Scholarly culture and academic performance in 42 nations. Social Forces, 00(0): 1-34.
Mar, R. A., Tackett, J. L., & Moore, C. (2010). Exposure to media and theory-of-mind development in preschoolers. Cognitive Development, 25, 69-78