"The Waiting Place… for people just waiting. Waiting for a train to come, or a plane to go, or the mail to come, or the rain to go, or the phone to ring, or the snow to snow, or waiting around for a Yes or a No, or waiting for their hair to grow. Everyone is just waiting." – Dr. Seuss, Oh, the Places You'll Go
When my daughter was an infant, she had a terrible case of GERD (reflux).  We ended up seeing a fabulous pediatric gastroenterologist.  She was the type of doctor you dream about.  She listened carefully, seemed incredibly tuned into my daughter, had fabulous patient-centered solutions, and was always available for follow-up questions. She never rushed our appointment time.  We spent as long as I needed discussing symptoms and solutions.  Because of this, she had a terrible wait in her office.  We sometimes waited for three hours for our appointment. She was so amazing once you saw her that you couldn't be mad.
We continued to see this doctor until my daughter was two-years-old and we moved away.  I learned during this time that I love waiting with my daughter.  This was good news since there is a lot of waiting with kids: doctor's appointments, oil changes, lines at amusement parks, and restaurants.  I loved waiting with her because it was uninterrupted bonding time.  My focus was solely on her.  I was not distracted by work or making dinner.  As she got older, I kept a "Waiting Place Bag" by the back door. It was filled with things to help us connect and pass the time while waited.  My "Waiting Place Bag" is even more handy now that I have two kids to bond with while we wait.  We also use our "Waiting Place Bag" for weekend road trips.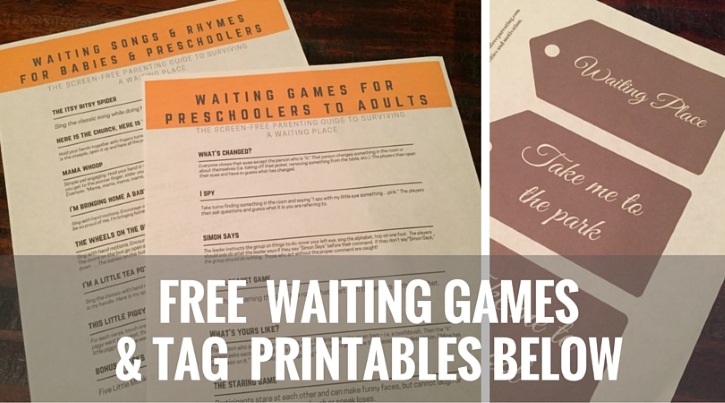 Here are some loose instructions on how to create your own "Waiting Place Bag." I also give you a peak into what's currently in our "Waiting Place Bag." Finally, I have a printable PDF for you that lists 7 waiting games for preschoolers on up and 7 rhymes and songs to keep the younger infants and toddlers entertained.  I hope you find that the printable and bag helps your find the joy in waiting with your child.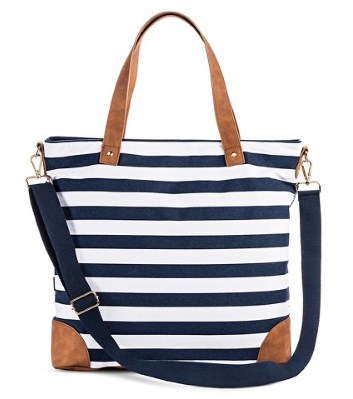 To create a "Waiting Place Bag":
Grab a bag.
Reflect on items you have that keep your kids entertained (storybooks, coloring books, stickers, small toys). Add a few of each to your bag. *
Print our waiting place games and songs printable.
Add everything to your bag and place it by your door so you can grab on your way out (or keep it in your car)!
*Just like my kitchen sink cabinet activities, a key to the waiting place bag's success is limited access. I don't let my kids play with the items in this bag unless we are actively waiting somewhere.
My "Waiting Place Bag" Contains**:
The PDF printable. This is my go-to. My kids love singing and playing waiting games.
A container filled with markers, crayons and pencils.
A few coloring books, sticker books, and work books. Our favorites are this sticker book, this preschool workbook, and this hidden picture book.
A mini Doodle Pro
Stickers
A Melissa and Doug Water Wow – M & D make the best travel products.  This one is great for different age ranges and keeps both my kids entertained. Just fill the "pen" with water and they reveal hidden pictures when they "paint".  I even like to play with these.
A Melissa and Doug Paint with Water – Another M & D brilliant invention. You just dip the brush in water and they can paint. Each page has "paints" at the top that children can dip their wet brush into to paint the picture.
A Melissa and Dough Pet Palace – This is a reusable puffy sticker playhouse. My daughter loves these. It comes with two sheets of reusable stickers and 8 pages of scenes.  (M&D did not sponsor this post. I just really love their stuff).
A few small toy animals. The options for pretend play are endless.  My one-year-old is obsessed with these.
Mini Play dough
A few story books that are small and light.
Two stuffed animals. These come in handy when we are waiting due to sickness and the kids just want something to love.
A Take N Play Go Fishing Game.  They have a whole series of these and they are great for road trips.
Non-Perishable Snacks and an Empty Water Container (Easy to fill up wherever we are). We use the Safe Sippy cup to avoid plastic.
One trick is that I staple a plastic Ziplock to the back of items that need a particular tool. My dry erase books have dry erase markers in a plastic bag stapled to the back of them. My Water Wow book has the water markers staples to the back.  My Paint with Water book has paint brushes in a Ziplock bag stapled to the back.
**Basically, it contains way more than we could ever need or use.  Whenever the kids receive a gift that is good for waiting, I always throw it into the bag, so it has grown over the years.  But, no one ever complains about waiting!  They are usually excited when we have to wait somewhere! We also use this bag for road trips.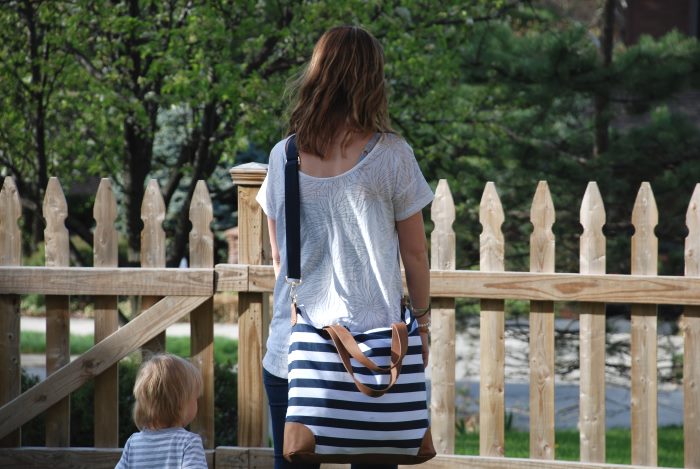 Our "Waiting Place Bag" is this one from Target. I like it because it zips close and has a cross-body strap to keep my hands free.
Conclusion
Life's greatest opportunities are often presented in the seemingly useless small moments.  We hope you are motivated to have fun the next time you are waiting with your child. Let us know in the comments section how you bond with your kid while you wait!
This post contains Amazon and Target Affiliate links for your convenience. Should you chose to purchase something for your "Waiting Place Bag," Screen-Free Parenting will receive a small referral fee and no additional cost to you.